Things To do
Trace the Steps of Hemingway Around Havana
Statue of Hemingway at Floridita Bar in Havana
Photo: Shutterstock
Eat, party, and drink like Ernest Hemingway at his favorite spots in Havana.
Writer Ernest Hemingway's life was full of adventure, intrigue, and eccentricity – leaving behind a trail of colorfully detailed memories all around Cuba.
Hemingway - better known by his close friends as 'Papa' - spent over twenty years in Cuba, and loved it deeply. Here, he created his most significant works like "The Old Man and the Sea" and "For Whom the Bell Tolls." His interviews are full of references to the island, its landscapes, and its nightlife.
Although Papa lived it up in Havana, most of his inspiration came from his longtime residence Finca Vigía in San Francisco de Paula - which now serves as the Earnest Hemingway Museum. This is outside the city and therefore, a bit remote. His brighter times in Havana leave a much easier imprint to follow.
So gather some traveling buddies and follow the steps of Hemingway around Havana. With this guide you can be sure to hit all the author's hotspots while sampling a menu of traditional cocktails and dishes along the route. A great way to pay homage to a figure Cubans still loves and admire.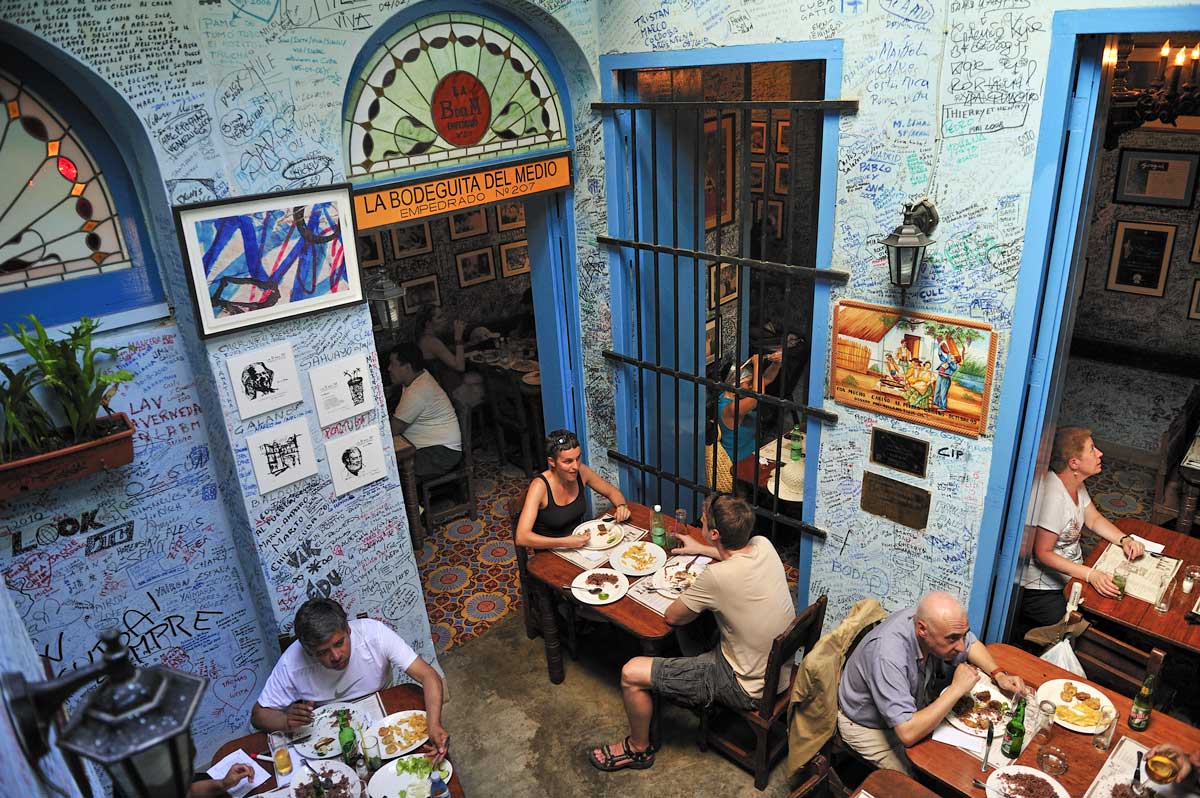 La Bodeguita del Medio in Havana
Photo: Shutterstock
La Bodeguita del Medio
We'll start our tour at one of the most renowned eateries in Havana, as well as one of Hemingway's favorites. La Bodeguita del Medio (the small shop in the middle), easily recognizable with its bright blue walls, claims to have invented Cuba's most famous cocktail, the Mojito. It's located on Empedrado street, just a block from the Cathedral, and four blocks from the Museum of the Revolution.
This small and cozy lounge still looks much like it did in the 1940s when it first opened. The old-school wooden furniture gives it an unpretentious "fisherman's wharf" appeal. There is little space between the bar and tables and even less room left on its walls: they're almost completely covered in portraits and signatures from past visitors.
And what a list of autographs it is! Mainstream artists such as Nat King Cole, Martin Scorsese, and Sting are all among the autographs of prominent Latin American personalities, such as Chilean writers Gabriela Mistral and Pablo Neruda, singer Agustín Lara, and, naturally, Hemingway himself.
The author went as far as carving the following inscription on one of the bar's walls: "my mojito at the Bodeguita and my daiquiri from the Floridita."
This mojito's fresh tinge of spearmint and lime juice creates the perfect antidote against the tropical heat. Make sure to order one at the bar while listening to live music, or have one with their famous frejoles negros dormidos (sleepy black beans).
Then, help your digestion with a short walk down Empedrado street, and turn left on Belgica street to reach the next stop.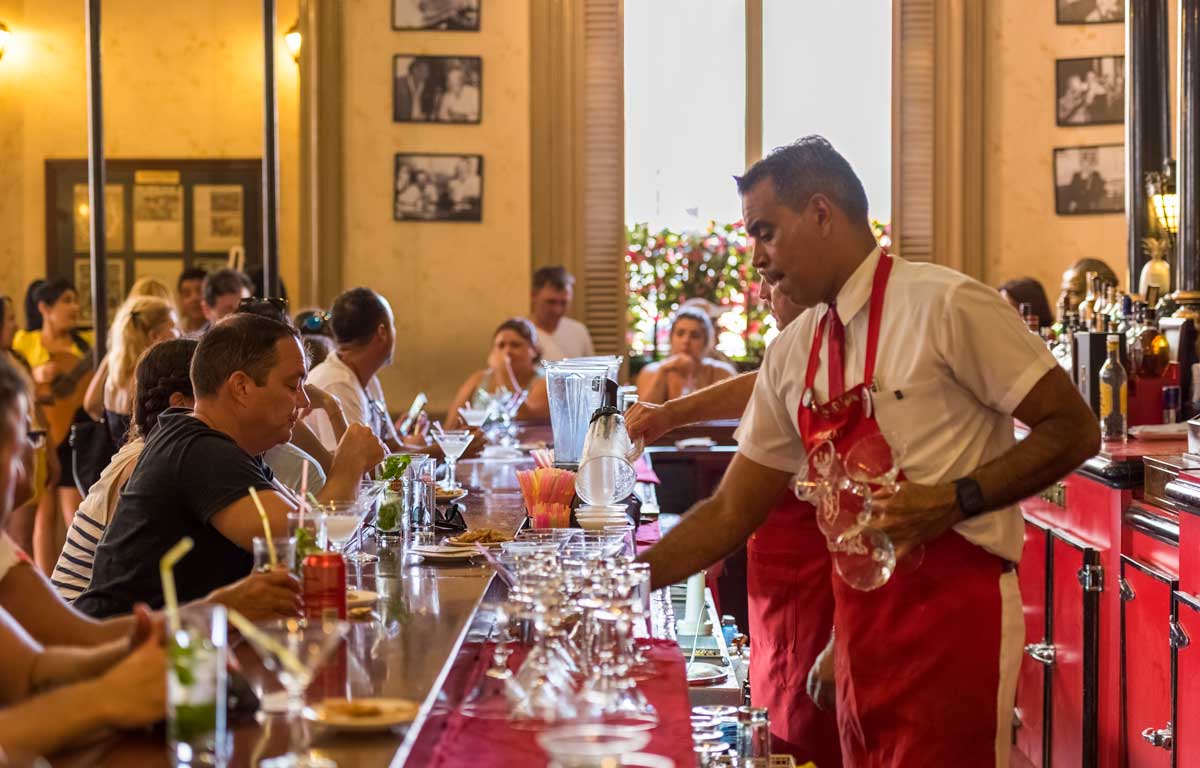 El Floridita Bar in Havana
Photo: Shutterstock
El Floridita Bar
El Floridita (little florida) is located on the corner of Belgica and Obispo streets, and remains one of the busiest bars in Old Havana.
This iconic spot has been attracting Havana's intellectuals for over 100 years, and naturally, Ernest Hemingway made daily appearances. His drink of choice? A modified daiquiri, which substitutes the sugar ring for pink grapefruit juice and adds a second shot of liquor, as the writer was diabetic.
The interior is decorated in an intimate, modest style. Its shadowy atmosphere sharply contrasts with the outside noise, creating the perfect Havana street corner for a good drink in the company of new friends, or discussing the remaining links between Cuban and American cultures.
After your post-lunch drinks at the Floridita, follow Obispo street for a couple of blocks until you reach our last stop: the Ambos Mundos (both worlds) hotel.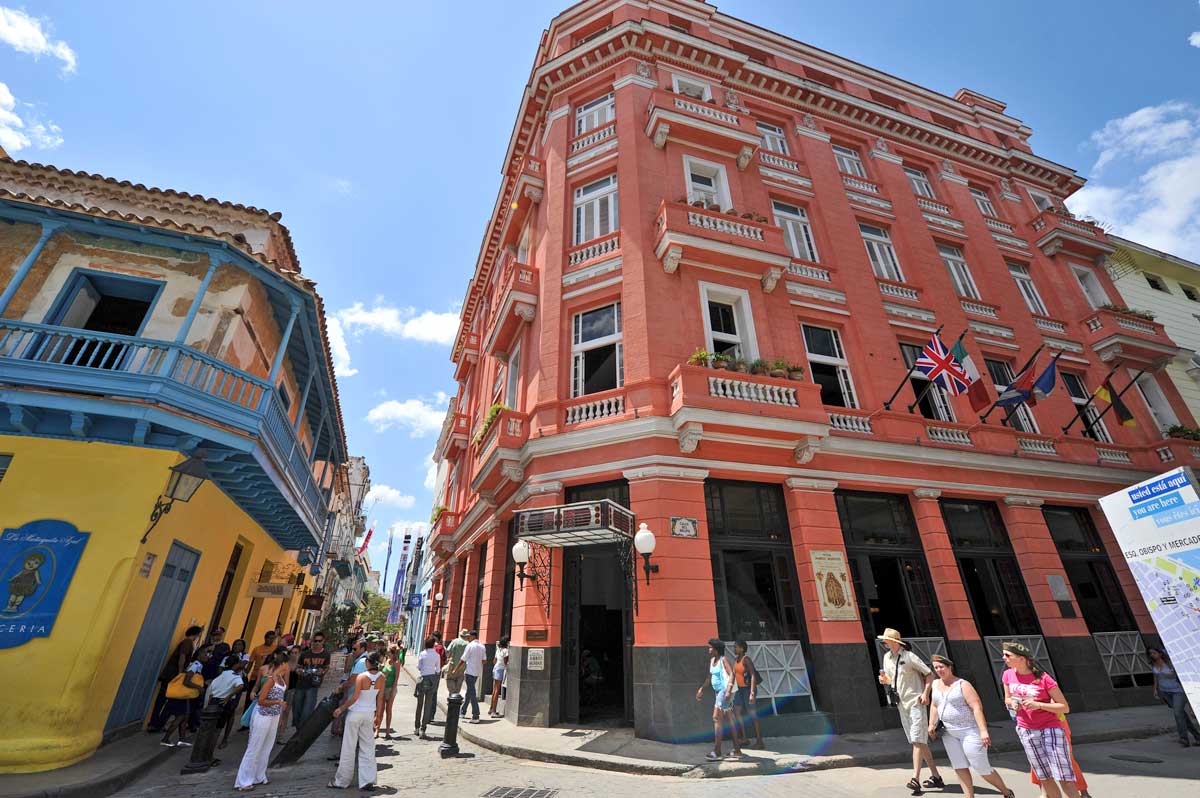 Ambos Mundos Hotel in Havana
Photo: Shutterstock
Ambos Mundos Hotel
Now, it's time to step into Hemingway's creative process – or at least, into the room he used when he felt he was ready to ramp up his productivity: room 511 of the Ambos Mundos hotel.
The room has been left largely just as it was when Hemingway would lock himself up in it, burning the midnight oil and working on Green Hills of Africa or To Have and Have Not. You can visit the room, which now acts as a miniature museum where you can sink further into the author's psyche. Get up close and personal with his old typewriter and take a picture next to his framed Pulitzer Prize.
On the way out, end the tour at the hotel's restaurant, the Plaza de Armas. It's not just one of the city's best but also serves some of the writer's favorite dishes. Plus, its terrace offers a superb view of the Havana. From here, you'll see the entire historical city center. You can order some coffee or their juicy barbecue special, and watch Cuban people as they stroll to their next appointment and share the latest news around town.
Hemingway lived, cried, and created literary masterpieces in Havana's streets. Despite the decades in between, you can still find traces of the author's soul spread around us.
The tour takes approximately 3 hours, if you stop along the way for lunch and sample the flavors of Hemingway's favorite cocktails like "Death in the Afternoon" (or papa doble), and of course his signature "Hemingway Daiquiri."
True to the writer's spirit, all the places listed here follow an informal, bohemian vibe. You'll just need some comfortable shoes, cool clothes, and your best Cuban 'Sombrero'  to get started.
Written by Gabriela Rey.
Published December 2022.
Explore Top Things to Do in Havana
Subscribe to our newsletter
Get more travel inspiration, tips and exclusive offers sent straight to your inbox