Art & Culture
Fábrica de Arte Cubano: A Unique Experience for Art Lovers
Fábrica de Arte Cubano in Havana
Photo: Alamy
Music, art, and craftsmanship combine in this top-rated "factory". Let it enhance your experience of Havana nightlife!
First opened in 2014, under the direction of legendary local musician X Alfonso, the Fábrica de Arte Cubano (Cuban Art Factory) quickly turned into one of the trendiest venues in Havana. Originally built as a cooking oil factory, a group of artists turned the near-decrepit building (and its distinct tall chimney, visible from around the town) into one of the engines that would transform the city's alternative nightlife scene.
Even the prestigious Time magazine chose it as one of the 100 Greatest Places in the World! Ever since the Fábrica de Arte is now a focal point of pride for locals and an atypical opportunity for tourists seeking a different type of party experience.
What Makes the Fábrica de Arte Cubano unique?
The Fábrica de Arte resists a simple classification. It's not a factory anymore, and it refuses to act as a simple art gallery. There's good food and catchy tunes, but it isn't a nightclub or restaurant. Instead, the project aims to be a center for Cuban artistic expression and thought, combining the best contemporary art installations, live concerts, movie screenings, and spontaneous impromptu dance sessions, all categorized in separate lounges.
Each corner within the massive warehouse follows a distinct theme, and yet it transitions into the next one without the need for walls or signs. Is the party feeling too boisterous? Then you're just a few steps away from a relaxing lounge, ideal for deep conversation or people-watching.
Need a bite while you see the latest trends in Cuban art as they're made? Not a problem! Just take a small detour during your visit and get both experiences at once.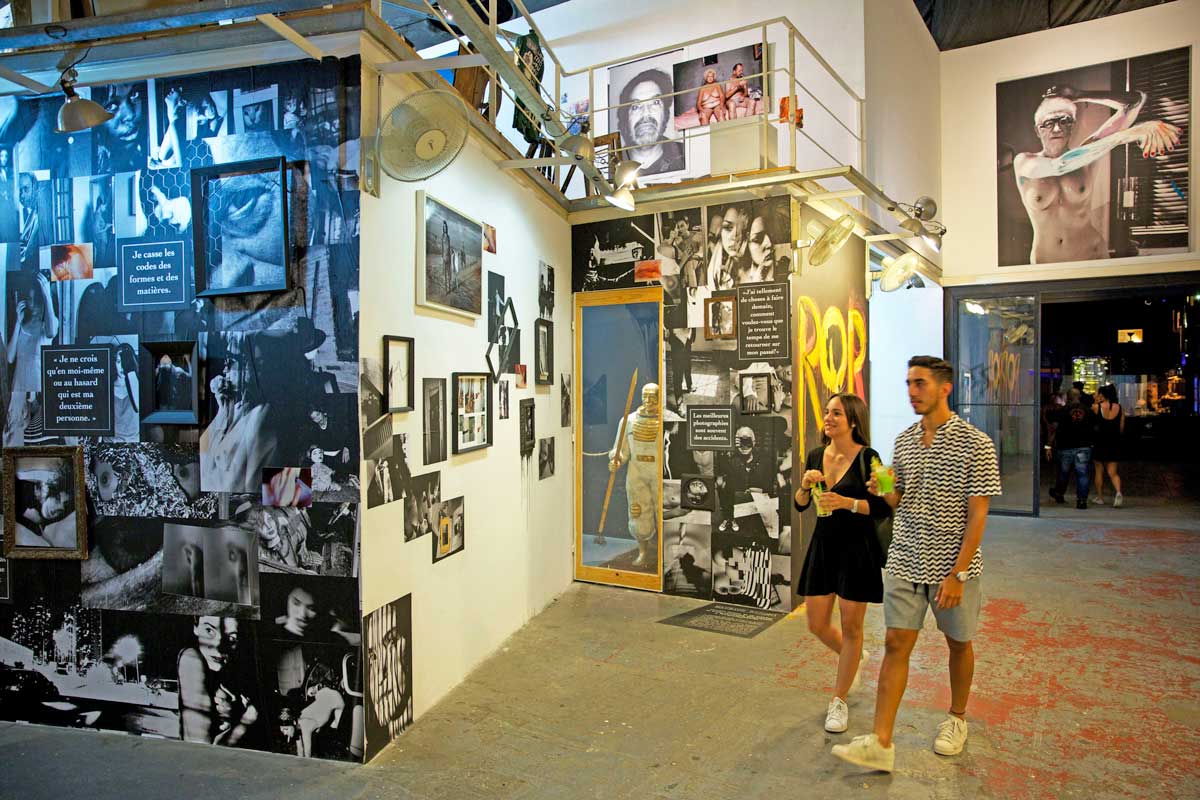 Fábrica de Arte Cubano, Havana
Photo: Alamy
What to do inside the Factory
Such a non-conformist space would feel constrained by regular schedules and timetables. Yet, the creative ecosystem it hosts has developed its own rhythms, so you can partially predict what you'll find.
From Thursdays to Sundays, visitors can window-shop while surrounded by dance troupes, listen to freestyle rap battles, place votes on imaginary architectural projects, and witness (or partake!) in improv sketches or flash mobs. Any form of art can be experienced or created inside this diverse factory – especially those that are outside the academic circles.
During the summer, the venue's beating heart moves onto the terraces. The building has two: one on the ground floor, which opens into the backyard and is permanently scented by the surrounding ferns and orchids; and one on the second floor, which houses an outdoor bar. Here, you can sample new rum-based creations that haven't made their way into the city's mainstream bars, surrounded by brutalist or recycled sculptures. This is the perfect corner to get away from the dance floor, which often gets hectic late at night.
Finally, the Fábrica de Arte also takes part in many of the city's larger cultural events and hosts a couple of its own. During the Havana World Music or the city's Latin American Indie Film Festival, the factory loans its lounges for side concerts and screenings. They also host their own Jazz Plaza festival, and a few themed parties every season. The Factory stays open until dawn whenever this happens, so you can catch them from the terrace above.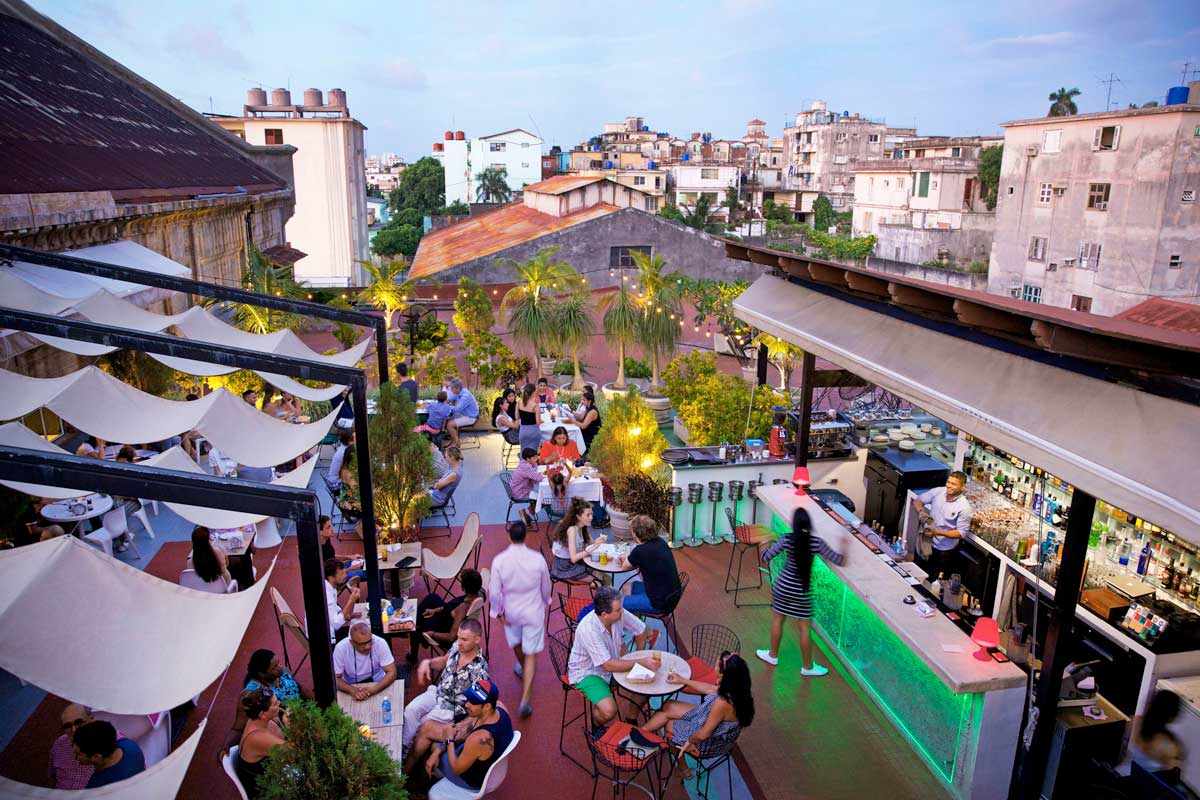 Terrace bar and dining area at Fábrica de Arte
Photo: Alamy
Don't miss the culinary highlights
Any non-artistic cravings you may experience during your visit can be soothed by the Factory's food stalls or its terrace bars. The menu at any of them rotates periodically, and always making sure to include a handful of different culinary styles.
The Fábrica de Arte closes for a couple of days every year, in order to refurbish its lounges, adjust its layout, and rotate its culinary offers  – so no room for boredom! These often include traditional Cuban street foods, Spanish-style tapas, and international creations by visiting cooks from Asia or Africa.
You don't need to be afraid to lose track of your bill. As you move throughout the building, your tab will be written on a small wrist card. You can carry it around just like a Bridgerton at a ball, although the layout and font copy that of old-school rationing coupons.
Thanks to its dynamic, ever-changing layout and willingness to take risks, the Fábrica de Arte has become an ever-growing project. Visit now and return next year, and you'll be gifted with a completely different experience, with its presentations turning into a blueprint for what's hot and trending in Havana.
Opening Hours: Thursdays through Sundays, from 6:00 PM to 2:00 AM
Door fee: 200 CUP - $8.00 USD
Dress code: casual
Pro tip: On Fridays and Saturdays, the Fábrica de Arte usually fills to capacity, so go early!
Written by Gabriela Rey.
Published October 2022.

Five of the Best Beaches in Cuba
Looking for a quick getaway or an island escape? We've rounded up a list of the best beaches for you to kick your feet up, relax, and enjoy the best Cuba's coasts have to offer!
Playa Ancón beach near Trinidad
Photo: Shutterstock
Subscribe to our newsletter
Get more travel inspiration, tips and exclusive offers sent straight to your inbox