Cuba Up Close
The Secret Behind the Legendary Cuban Habano
A Cuban woman with a cigar, Havana
Photo: Shutterstock
Let's go on a Cuban Cultural trip with the scent of Tobacco!
At some point, who hasn't thought about trying a renowned Cuban Cigar? Legendary in its own right on an international level. The fragrance and texture of the finalized product make Cuban tobacco, not only a great smoke, but an actual work of art and craftsmanship. The tradition of tobacco cultivation on the island dates back to the indigenous people that lived there for centuries.
The history of the Cuban cigar is one of mystery and curiosity, which we'll be revealing in this article. Also, we'll show you how to buy good quality 'Habanos' in Cuba and the best way to smoke it native-style. So, accompany us on a voyage through the culture of Cuban tobacco and how it's all done.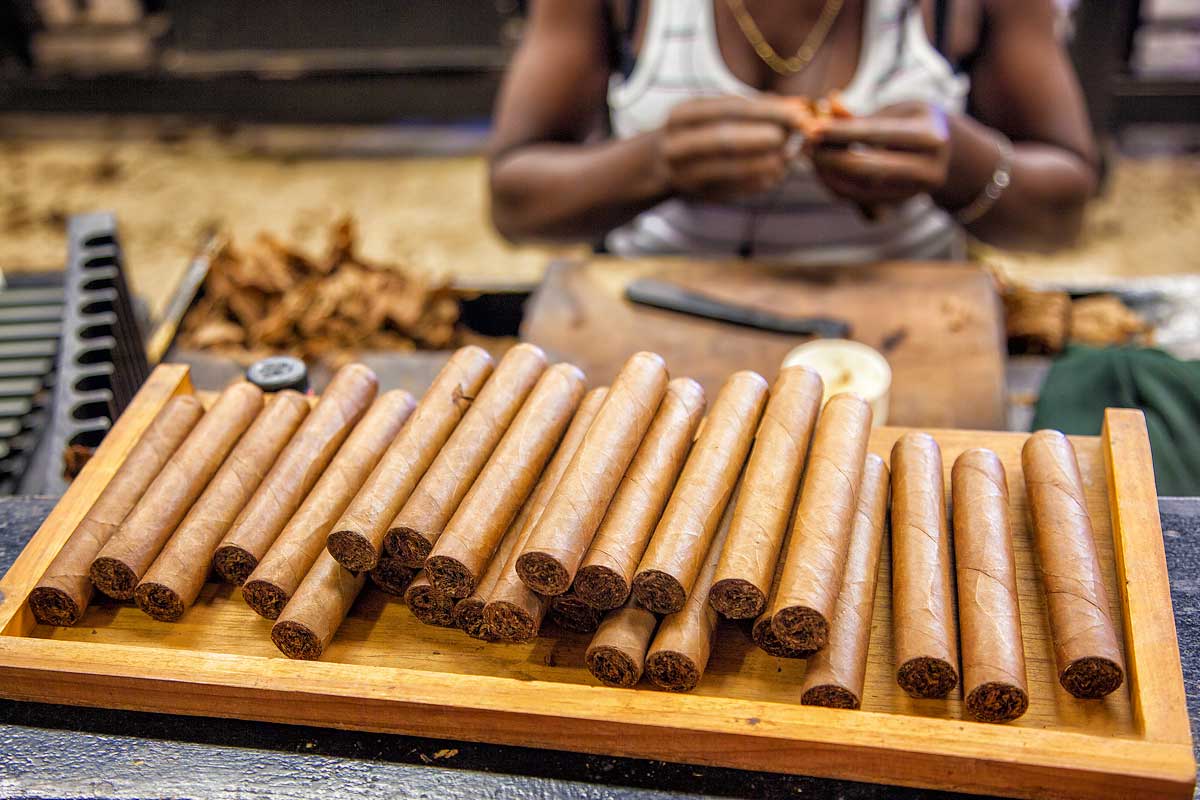 Man rolling Cuban cigars
Photo: Shutterstock
Did the indigenous smoke Tobacco?
That's right! By the time Christopher Columbus set eyes on Cuban soil, this voyager would find that the communities inhaled smoke from dried-up tobacco leaf cylinders. The Taíno people would also consume the leaves in ceremonial rituals and for religious purposes.
They believed this practice could purify the spirit, possessing magical powers that would please their deities. Furthermore, the leaves would also be used to predict the future, holding medicinal properties. As you can see, the Cuban cigar embodies its origins and spiritual value, forever embedded in Cuban culture.
When were Cuban cigars first introduced?
It wasn't until the 19th century that necessary conditions would be favorable for the mass commercialization of tobacco. Quickly, the amount of small and large tobacco dry houses called "Chinchales" multiplied, and farmers began growing at an impressive rate. The exportation was a success; by 1842, it surpassed the 150 million cigar mark. The once small shacks would soon become factories.
During this period, circa 1845, is when the well-known businessman Jaime Partagás developed his first cigar factory on the island. He would dedicate himself to implementing innovations and techniques in the cigar production industry. His 'Cigarros' were of such quality that he became the leading distributor to various noble families in Europe.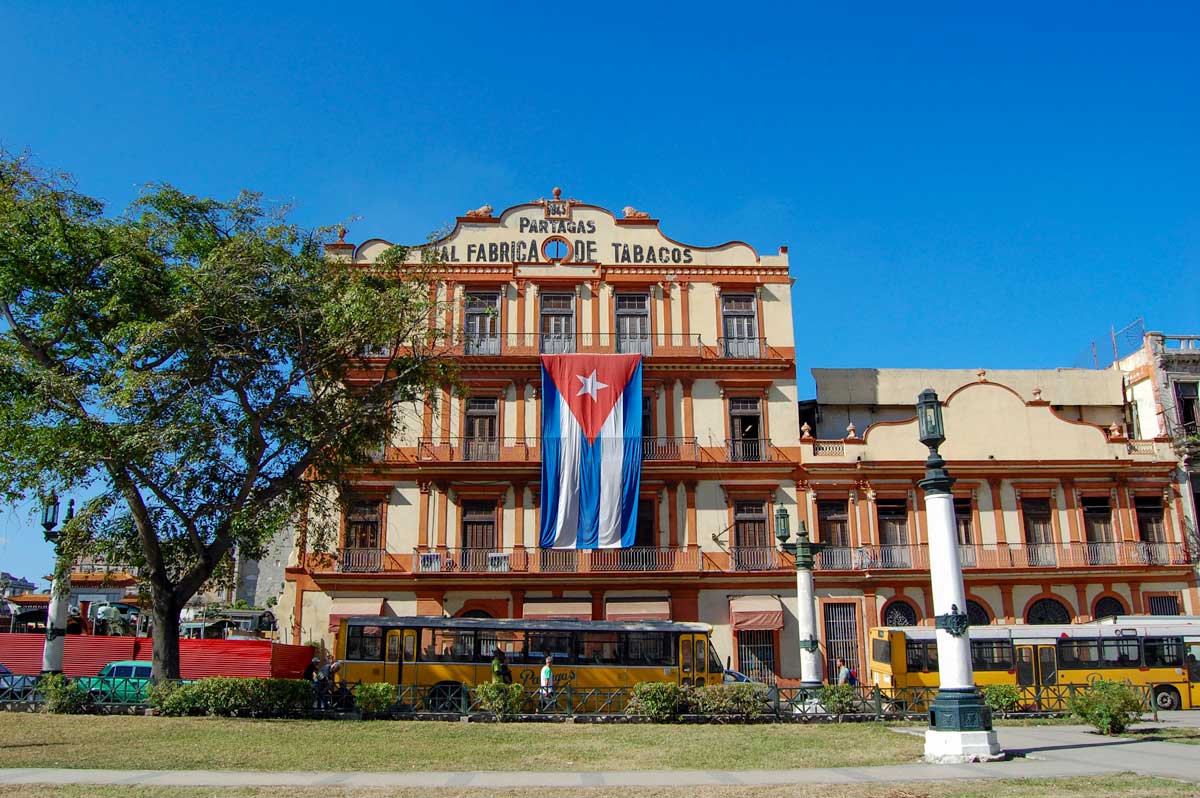 Real Fabrica de Tabacos Partagás, Havana
Photo: Shutterstock
Is it possible to visit an authentic Tobacco factory in Cuba? Can I get cigars there?
The Real Fabrica de Tabacos Partagás still exists and is based in a colonial-era building - undergoing many renovations since its official inauguration over 100 years ago. You can even visit this very site in Havana and learn more about the details involved in producing cigars, while rolling masters prepare the next great Habano. It's located just one block from the famous Capitolio.
You'll discover how the leaves are classified, how they are prepared for rolling, and the final placement of their signature cigar band. Tabacos Partagás also houses a shop for the sale of Habanos, allowing you to try the final product out for yourself. Guided tours have an average price of US $10.
Why is it called a Habano?
All cigars made with 100% cultivated tobacco and manufactured on the island can be called Habanos - especially those originating from Havana. The Habano is an exclusive Cuban product, sealed with a stamp of authenticity on every box of assorted Cuban brands like the Cohiba.
Did you know that Cohiba is among the world's major brands of quality cigars? Founded in 1966, the brand has been elaborated and boxed at the same facility of El Laguito ever since. Two out of three types of Tobacco leaves are used to create a Cohiba cigar - undergoing an extra step of fermentation that allows for that unique aroma that only Cohiba can produce.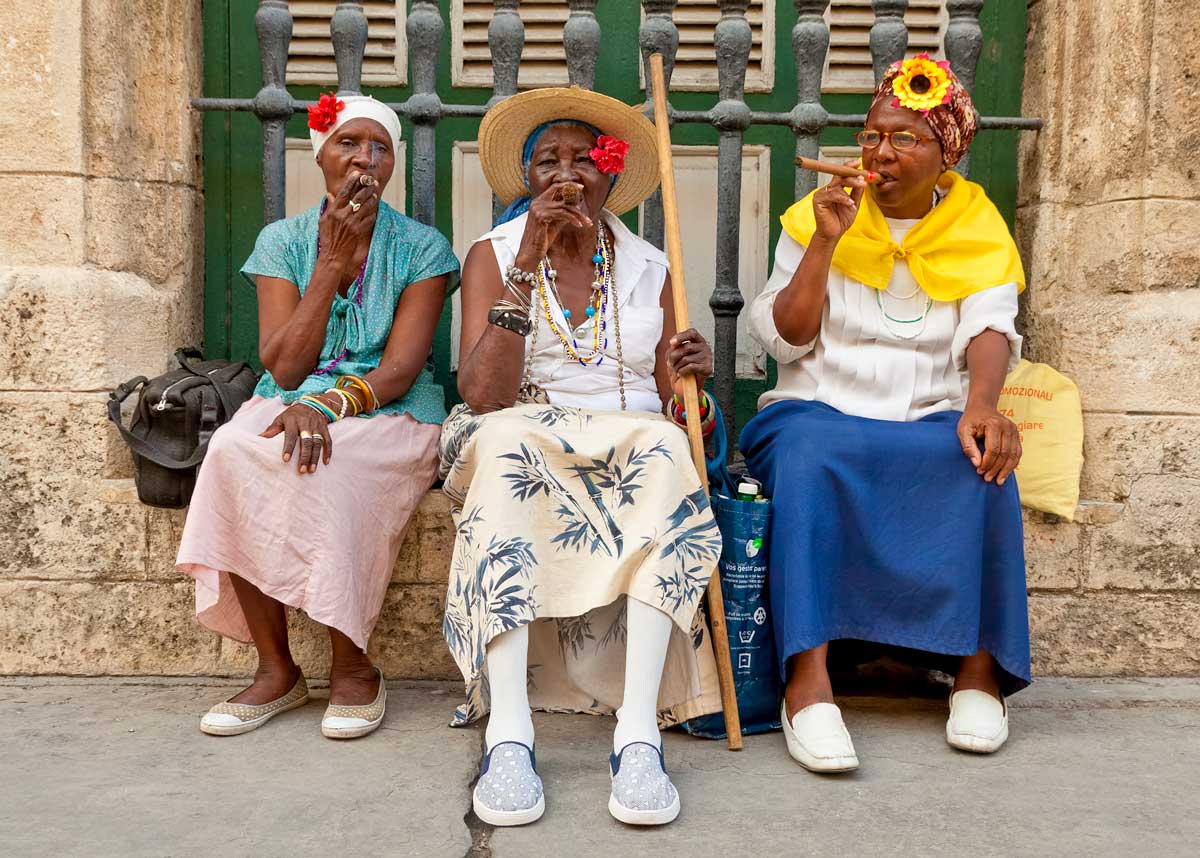 Ladies smoking Cuban cigars, Havana
Photo: Shutterstock
Other great Habano shops
You can find all types of brand-name cigar shops around Cuba! In Varadero, we recommend the Casa de Tabaco Caribe, located at the Hicacos mall on 1st Ave, between 44th and 46th street.
If you're passing by Havana, maybe you'd prefer to check out el Comodoro, La Escogida between 3rd and 48th Street. Or stop at one of the mainstream spots like Cohiba Atmosphere at the Gran Hotel Manzana Kempinski on San Rafael Street. Prices vary by brand, but you can expect to pay US $100 and up for the real deal.
Smoke it like a Cuban
Make sure to hold your cigar firmly between your index and middle finger. Make your cut on the line where the cap and the wrapper meet. Hold the far end of your cigar 90 degrees from the flame, and turn the cigar as you puff along. Once you've got it lit, sit back and enjoy the best tobacco in the world while having the Cuban drink of your preference for a heightened experience.
Consider yourself a Tobacco and Cigar enthusiast? Then you'll be fascinated to see the process of cultivating and producing Tobacco in the Dominican Republic!
Written by Teresita Padrón.
Published October 2022.
Explore Cubas's Art & Culture
Subscribe to our newsletter
Get more travel inspiration, tips and exclusive offers sent straight to your inbox