Events & Festivals
Marabana - Havana's Annual Marathon
Runners at Marabana, Havana Marathon
Photo: Alamy
The Marabana, Havana's annual marathon is a unique opportunity to explore Cuba's capital. Here's all the info you need to sign up for the next race.
Rare is the traveler who only has one passion – and travel is a perfect one if you seek to blend several interests at once. So what if you want to combine historical sights with athletic feats, but a regular trek doesn't stroke your competitive bone enough? Maybe Havanna's annual marathon, the Marabana, is what will finally push you to book a holiday in Cuba.
As the island's largest sports event, the Marabana uses Old Havana's emblematic, UNESCO-protected backdrop to host a fully-featured running festival. Read on to learn more about its events, what makes it special, and how you should prepare for it.
About the Race
Usually held on the third Sunday of November, the 2022 Marabana will combine a handful of races and satellite events that aim to tackle every level of running.
The full 42-km Marathon
A parallel full Marathon for runners with disabilities, which follows the same route
A 24-km Half Marathon
A parallel Half Marathon for runners with disabilities
A 5K Walkathon for those just starting out
Both the full and half marathons are certified by the AIMS (Association of International Marathons and Distance Races) and the IAAF (International Amateur Athletic Federation). This means that you won't just be getting bragging rights: if you need to qualify for a national team or an international race, your score at the Marabane will count – and should you beat a world record, it will also go on the books!
Who can compete?
All five circuits are open to Cuban and international athletes alike. Medals will be given for the overall male and female winners, as well as for the winners of the Open and Master (for people over 50) categories. The races for disabled athletes are open in three categories: wheelchair, deaf and hard of hearing, and visually-impaired runners.
Route highlights
Both the starting and finishing lines are in the heart of Old Havana. The kick-off line is set at Central Park, just in front of the El Capitolio, the former home of Cuba's national congress. You can immediately identify this building thanks to its enormous white dome and towering columns.
Other beautiful sights along the way include:
- The Havana Boardwalk (Malecón de La Habana). Expect epic views of the ocean skyline as Caribbean waves crash against the sea walls.
- The Havana Zoo, right after Km 12 – but if you want to see the animals, you will need to come after a good rest
- The Sports City Complex (Ciudad Deportiva). You will circle it before Km 15, crossing the avenue that separates it from the Manuel Fajardo University Campus
- The Revolution Square (Plaza de la Revolución), at Km 17. This square is home to the vast Jose Marti memorial, the Palace of the Revolution, an enormous steel mural of Che Guevara, and several of the city's top cafes.
- El Vedado. This legendary bohemian neighborhood will cheer you as you approach the mid-point (or the finish line if you are running the Half Marathon).
The course is open for five hours between 7 am - 12 pm, with specific start times in place for each category.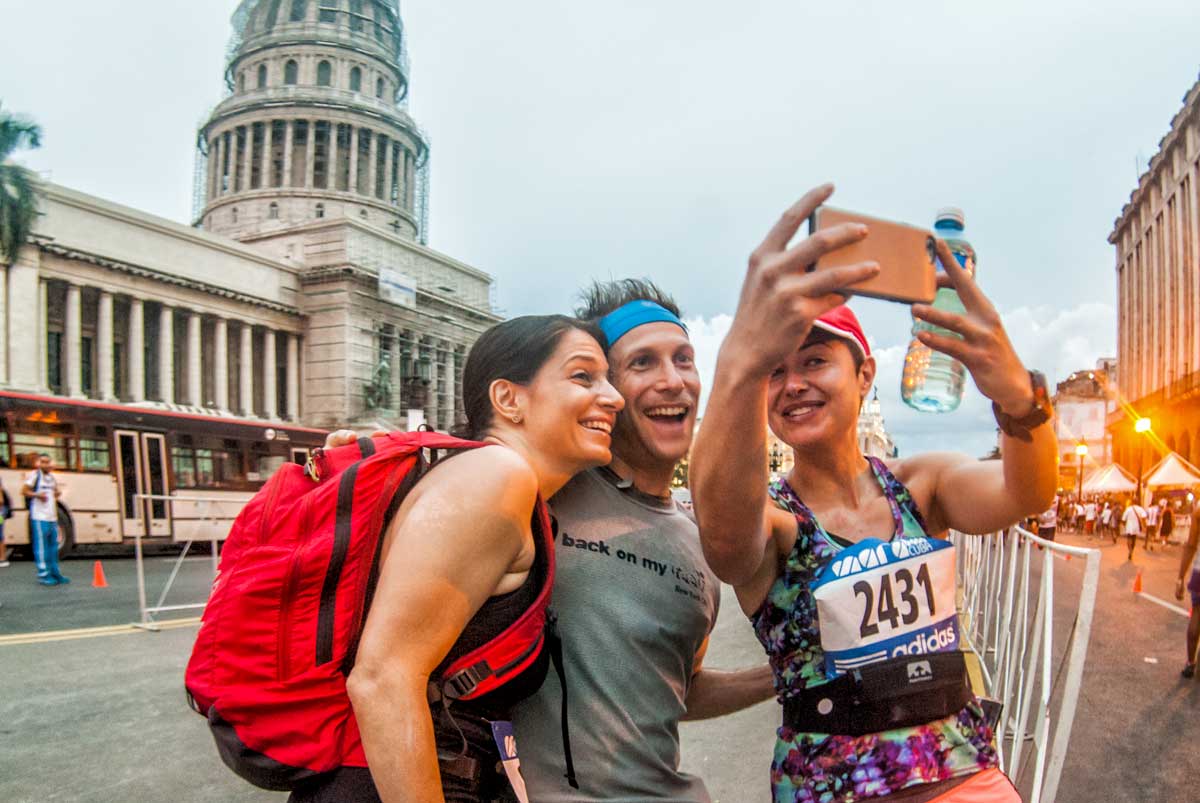 Runners taking a selfie at Marabana, Havana Marathon
Photo: Shutterstock
Here for just the party? You can still enjoy the Marabana
You don't need to be a pro runner in order to enjoy the Marabana's festive spirit. People from all over the city will come to look at the runners, cheer at their local representatives, or just take advantage of the impromptu friendship opportunities. Dancers and marching bands usually perform for the crowd at the Central Park, as everyone waits for the runners to return.
If you'd rather avoid the large crowd, you can also hang around any water spots, and even volunteer to offer refreshments.
New to running in the tropics? Pro tips to enjoy the Marabana
During November, temperatures in Havana can easily reach or cross the 30° C (86° F) barrier. Even if it doesn't rain, there is a good chance that the day will be humid, which can quickly get stifling. This makes pre-run hydration a delicate balance!
The day before, take a night off the Mojitos and Cancháncharas and make sure you drink a good few liters of water the day before you head to the starting line.
Some runners swear by a shot of olive brine – just like the one you would put on a martini – right before the race starts. If you'd rather try a local delicacy, grab yourself a glass of Guarapo, a fresh sugarcane juice sold by cafes and street vendors across the capital.  You'll struggle to find a better energy drink on the market!
Still, don't be surprised if you struggle to hit your regular pace. The heat will increase demands on your body, so pay close attention to how you feel throughout the run. You don't want to ruin your vacation while pushing for a Personal Best.
No winner's medal is shiny enough to distract from the misery of sunburn. High-factor sunscreen is an absolute must, and we also suggest you wear a hat and sunglasses to protect your eyes during the race.
To ensure you have the best place to recover after the marathon, we recommend planning your accommodation at least three months before the race. You'll find a rich supply of options in popular tourist areas such as Old Havana, Vedado, or Centro Havana, all within walking distance to the starting point.
Finally, don't forget your camera! You're will be racing in one of the most unusual settings in the world. If you brought a friend along, make sure they snap you along the way. If not, attach a GoPro to your hat and capture that time you ran past a building-sized mural of Che Guevara
Get signed up
Registration fees for the Marabana range from 70 - 110 USD depending on how close to the event you decide to sign up. If you are running on a tight budget, make sure you add your details in advance to avoid paying any extra cash. If you find yourself in town around the time of the race, last-minute registrations are accepted at Hotel Iberostar in Parque Central. Just keep in mind that availability is by no means guaranteed.
To sign up, check out the official Marabana website a few months in advance, and you'll find all the details to register for your chosen category.
Written by Neus Pechero.
Published September 2022.
Looking for More Adventure in Cuba?
Subscribe to our newsletter
Get more travel inspiration, tips and exclusive offers sent straight to your inbox