Destinations
Valley of the Sugar Mills
View of Valle de los Ingenios
Photo: Shutterstock
A Valley of Natural Beauty with a Gloomy History
El Valle de Los Ingenios is a majestic extension of wondrous natural valleys that were once the epicenter of processed sugar production and slavery in Cuba. A place where powerful families from Trinidad used brutal slave labor to fuel their economic success.
Today, the remains of that industry serve as a reminder of its complicated history. The vestiges of sugar plantations, barracks, and haciendas are places of remembrance - cultural landmarks that represent both the suffering and injustices of the past, as well as the resilience and strength of the people who were affected by it.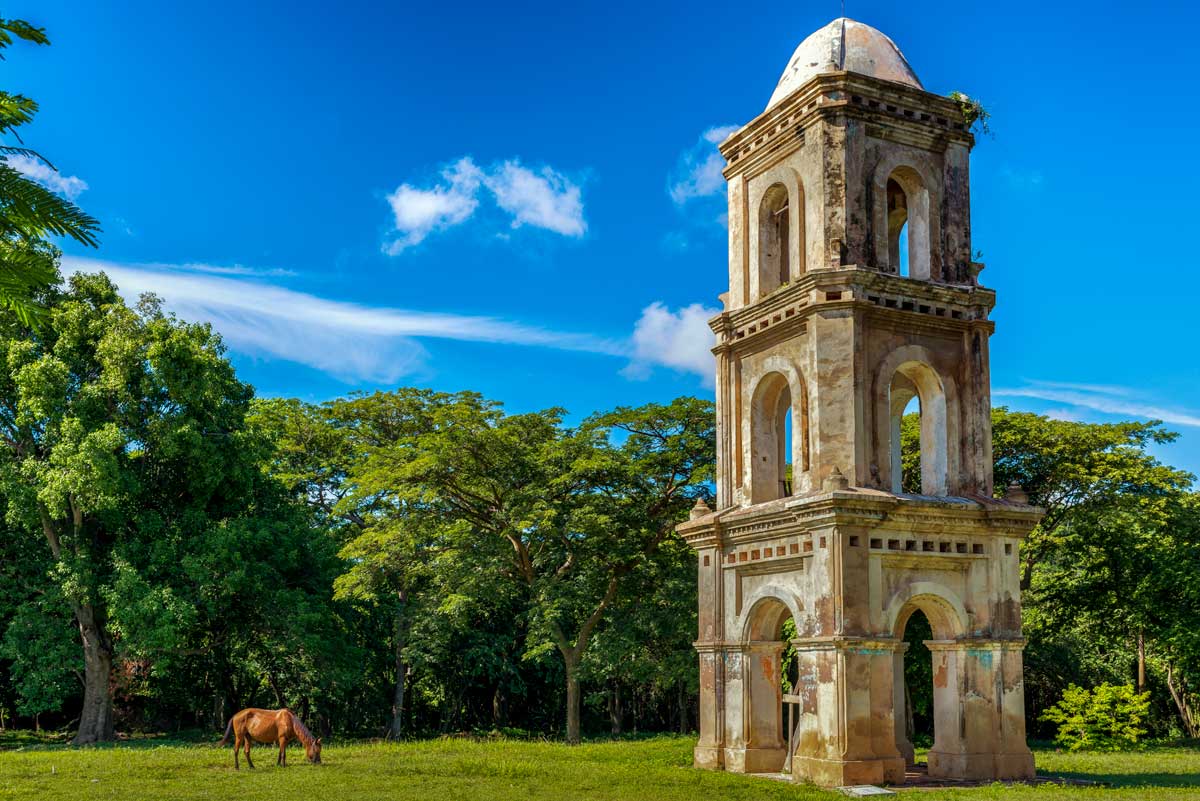 Observation tower at San Isidro de los Destiladeros
Photo: Shutterstock
Explore the complex history
Historians believe that at the height of the sugar boom during the 18th and 19th-century, over 50 Sugar Mills were operating across the San Luis, Santa Rosa, and Meyer valleys in South Central Cuba.
Located in Trinidad, Cuba, El Valle de Los Ingenios is an official UNESCO World Heritage site, promoting the advancement in restoration and conservation efforts to preserve the history of slavery in Cuba. A history tarnished by the mass enslavement that ensued once sugarcane plantations began to increase. Powerful families like the Fanjuls dominated the sugarcane industry in Cuba with an iron fist and built an empire.
Cuban conservation authorities in Trinidad, strongly encourage visitors to interact with these valleys and structures and acquire knowledge about the sugar hustle that brought riches and tragedy to the region. Around this time, it is believed that over 11,000 enslaved Africans, along with debilitated indigenous people, were brought to Cuba from neighboring islands.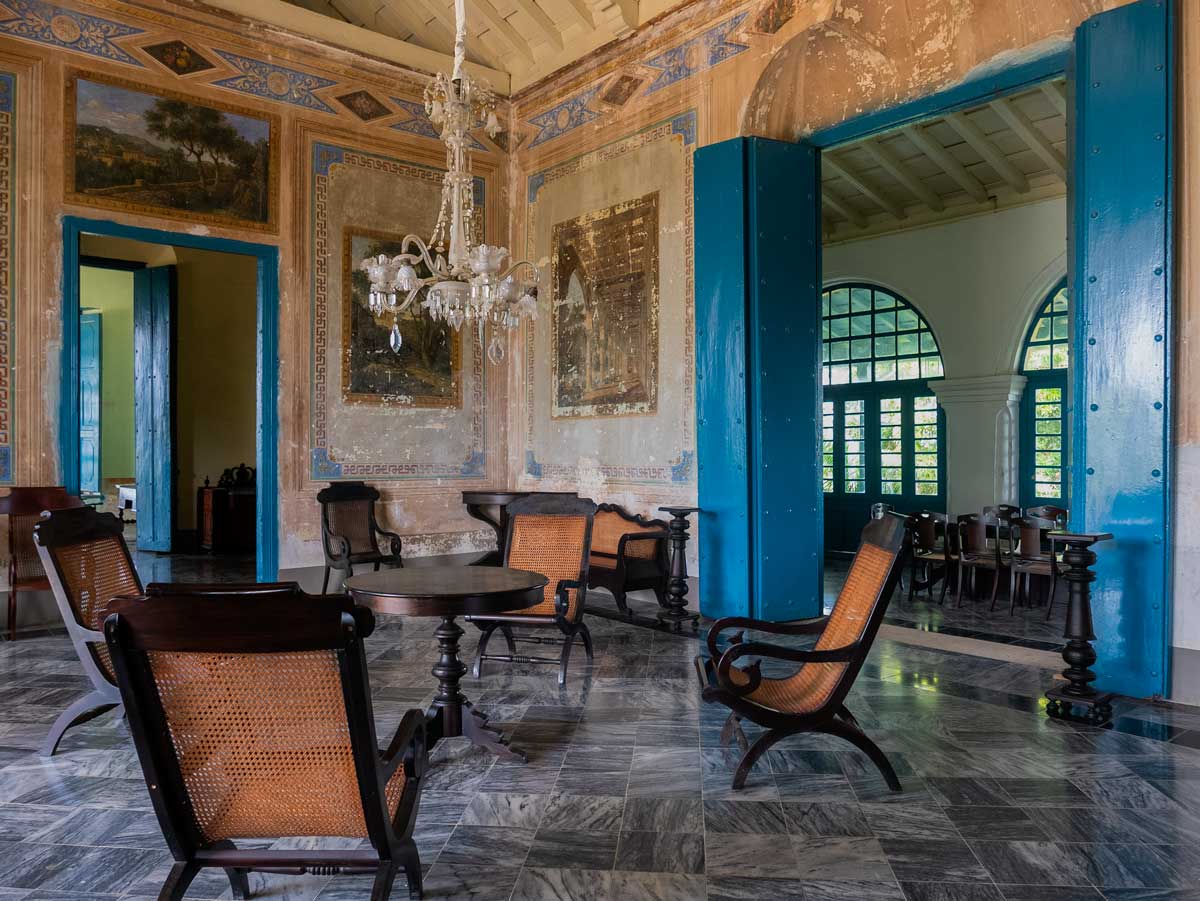 Interior at Guáimaro sugar mill
Photo: Shutterstock
Historic sugar mills
Manaca Iznaga
Deriving its name from the property's indigenous name, 'manacanacu,' and the surname 'Iznaga' from prominent owner Pedro J. Iznaga, Manaca-Iznaga's history is one of significant historical and cultural importance. The colonial architecture of the primary residence and bell tower, Casa Hacienda and Torre Vigia standing 45 meters high, gives visitors insight into the prosperity this sugar plantation gained in the 1800s.
Contrasting its splendor is what remains of the slave shacks that are separated from the hacienda but close enough for the overseers to keep an eye out from the same pretty bell tower that stands today. The slave dwellings were accompanied by backyards where a recorded 231 enslaved people lived, and raised poultry and cattle to feed themselves.
The Torre Vigia still conserves a wooden staircase for visitors who wish to get the best view of Manaca Iznaga.
Hacienda Guachinango
Though not a producer of sugar, Guachinango was an important late 17th-century cattle ranch that supplied all of the Valley of the Sugar Mills. Since its reconstruction in 1989, the hacienda was renovated to open its doors to curious visitors for a chance to go horseback along scenic trails, interact with relics, and enjoy a typical home-cooked Cuban meal. If you have time to spare, the Ay river is waiting nearby for adventurous travelers who want to take a plunge.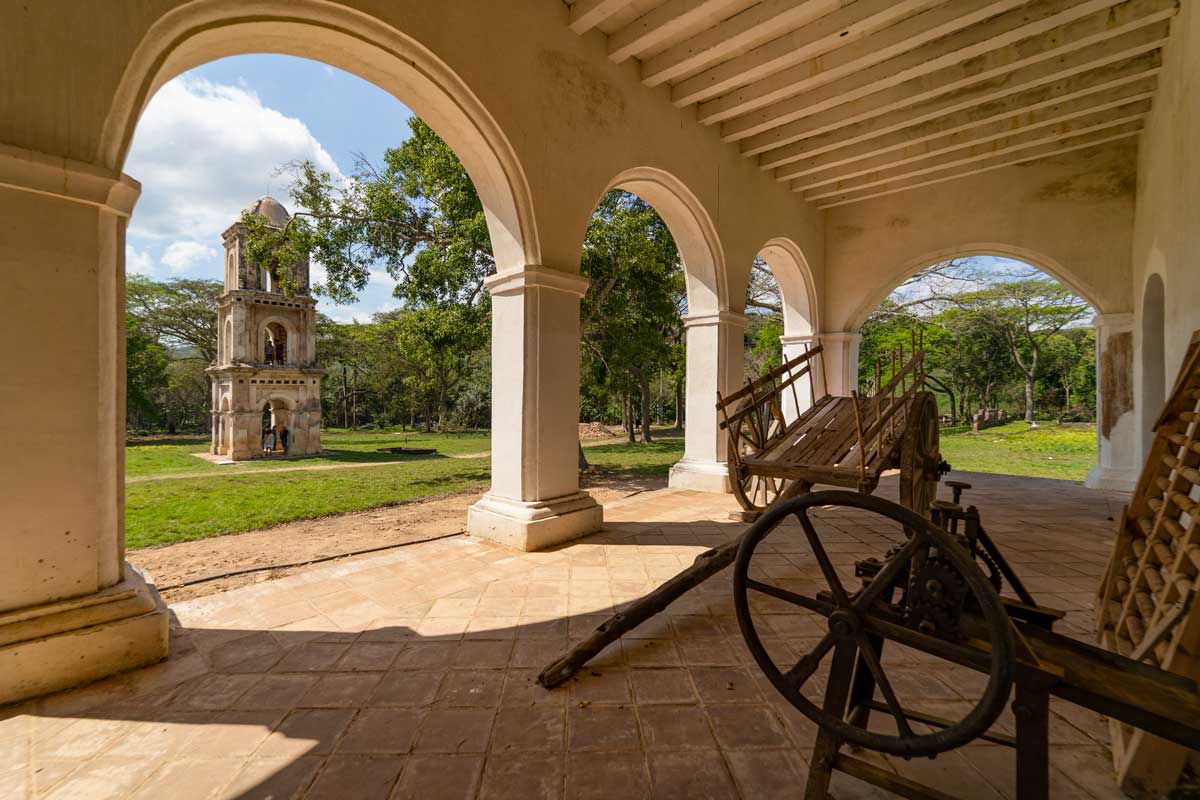 San Isidro de los Destiladeros sugar plantation
Photo: Shutterstock
Guáimaro
The most architecturally interesting Sugar mill, Ingenio Guáimaro, wields a colonial facade with an illustrious victorian interior decor. The inner walls are trimmed within elegant borders - each with a framed mural of the Sugar mill's surrounding landscape.
Guáimaro was also the highest producer of sugarcane in the valley - breaking the world record in 1,827 with 8,200 loads of sugar. Although a considerable achievement, it came at the expense of cruel and inhumane slave labor that cost many lives.
This site is now a museum, El Museo de Azúcar, where the area's history is told as part of a tour through the Valle de Los Ingenios.
San Isidro de los Destiladeros
Similar in design to the at Manaca-Iznaga, San Isidro of the Distillers had a colonial-style home, barracks, and bell tower that now lay in a series of ruins.
The three-story tower was built in a neoclassical style with renaissance-esque features. Nearby are the remnants of an ingenious hydraulic water system and what was known as a Jamaican Train - a line of large brick-laden kettles used to stir the boiling sugarcane juice for processing. Oftentimes enslaved workers would die of severe burns from the hot sugary liquid that would spill over when stirred in these large pots.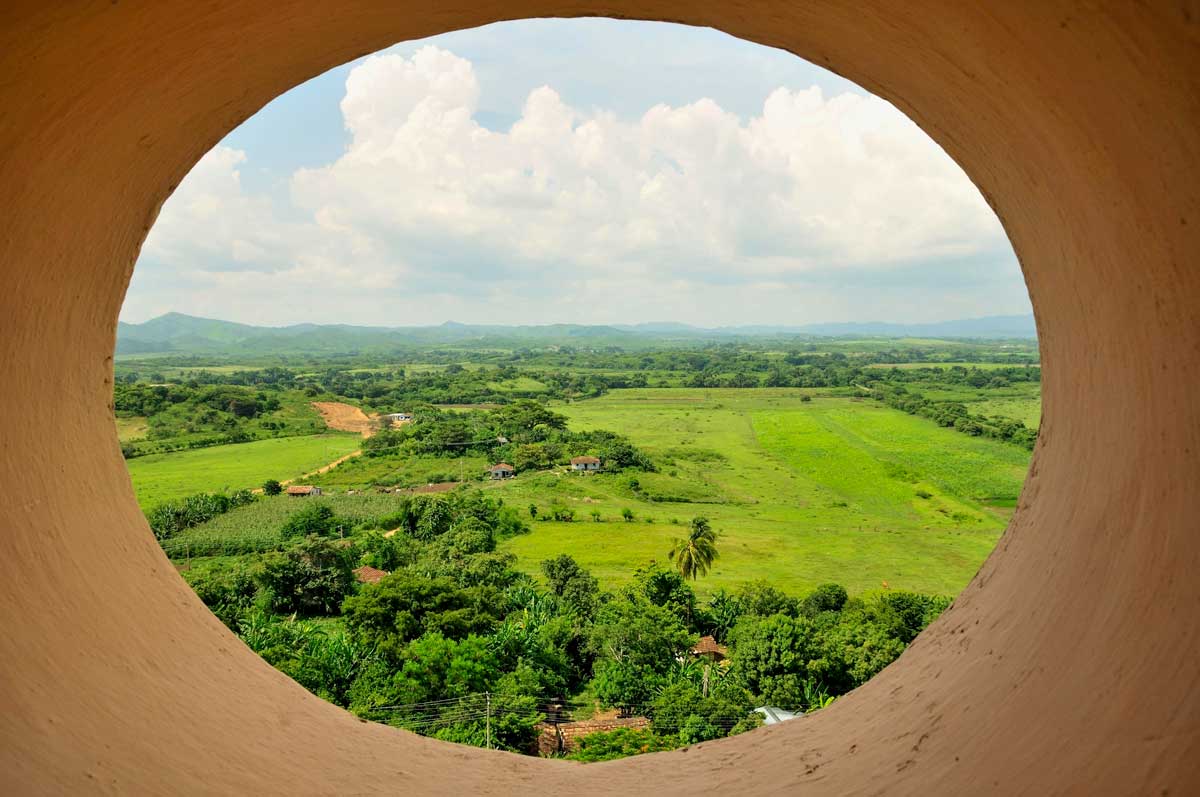 View from tower at Manaca Iznaga
Photo: Shutterstock
How to Visit the Valley
If you're traveling from Havana, the easiest way to reach the city of Trinidad is by bus with Viazul services or by car, which takes approximately 4 hrs. You can also check national flights with Cubana airlines.
Now, once you arrive in Trinidad,Cuba, you'll have to board the tour train or Tren Turistico at 9:30 a.m. at the central station. The train used to transport sugarcane will now take you through the Valley of the Sugar Mills up to Ingenio Guáimaro. The tour is about 5 hours long, but the gorgeous scenery and historic stops will make you wish it took 10 hours to get there.
Written by Lenna Escobar.

Published December 2022.
Five of the Best Beaches in Cuba
Looking for a quick getaway or an island escape? We've rounded up a list of the best beaches for you to kick your feet up, relax, and enjoy the best Cuba's coasts have to offer!
Playa Ancón beach near Trinidad
Photo: Shutterstock
Explore Cuba's History & Heritage
Subscribe to our newsletter
Get more travel inspiration, tips and exclusive offers sent straight to your inbox