Wildlife & Nature
See Cuban Nature Up-close at Sierra Del Rosario
View of Las Terrazas, Sierra del Rosario
Photo: Shutterstock
Sierra del Rosario Sights You Can't Miss
Sprinkled with old coffee estates, refreshing ponds, and the chirping of exotic birds unique to the island, the Sierra del Rosario (Rosario Mountain Reserve) is one of Cuba's most beautiful nature reserves. It is located barely 60 kilometers from Havana, yet it feels like a universe apart.
Have time to spare? Then you won't want to miss this stunning retreat.
What Makes the Sierra del Rosario Special?
Nestled between the provinces of Artemisa and Pinar del Río, the Sierra del Rosario is a protected rainforest area that serves as a hub for sustainable tourism. The Reserve is just a 260-square-kilometer section of the larger Guanuguanico Mountain Region. Thanks to careful management, it now serves as a haven for endemic birds and a refuge where tourism and nature can nurture each other rather than compete.
The area received official protection in 1984, making it the first Cuban Biosphere Reserve to be recognized by UNESCO.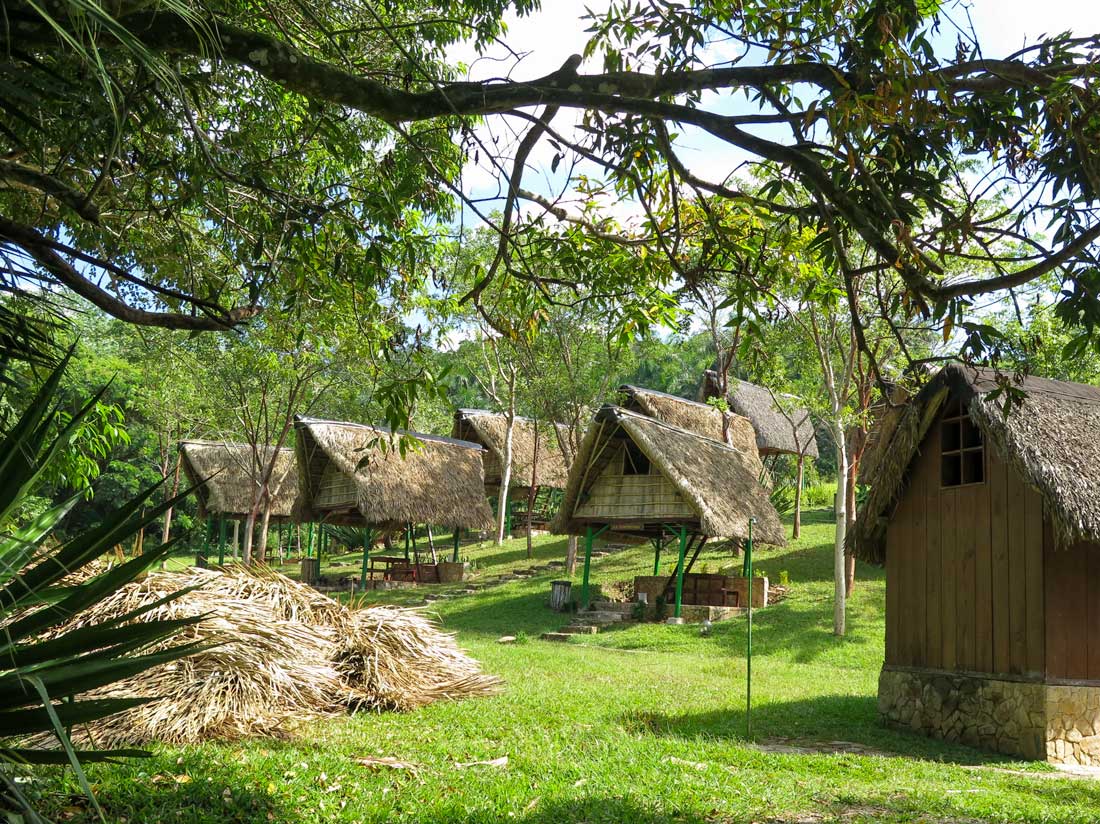 Small traditional huts in Las Terrazas
Photo: Shutterstock
What to see Around the Sierra del Rosario
Two features render the Sierra del Rosario different from all other jungle reserves. First, the hills and nearby lake provide a series of unique microclimates, which provide a handful of humidity and temperature conditions – so you'll be getting four different regions for the price of one! Second, the area is the last home of many endemic birds and plants, which you won't find on any other island in the Antilles.
Las Terrazas Community
We will begin our tour from the bottom of the Reserve, directly next to San Juan lake. Las Terrazas is a community devoted to sustainable tourism and low-impact agriculture. It was named after the small man-made terrazas (terraces) that overlook the lake directly.
On these terraces, each cabin and building can keep its impact contained. All buildings are made from local wood and designed to blend with the landscape. Tree-shaded porches replace driveways, and canopy walks connect the roofs for anyone looking to tempt their inner Tarzan.
As it is close to the water, the area around Las Terrazas enjoys the coolest temperatures in the Reserve. At dawn, steam from the lake and the scent of nearby plants will transport you to a time and lifestyle where cement and fossil fuels did not rule over us and where the only sign of the approaching morning is the change in the rhythm of the forest sounds.
The best place to stay in Las Terrazas is the Moka Hotel, built around the area's ancient trees but with a traditional "coffee estate" architecture. This four-star hotel is an excellent base of operations for the region: from here, you will be less than an hour away from most treks in the area, and you can book tours on horseback or guided visits.
San Juan River Beaches
The San Juan Lake's still waters may offer peace, but if you are willing to go upriver, you will find a livelier, refreshing route around the Reserve. The San Juan River beaches offer a combination of rapidly-moving streams, interspersed with quieter natural pools carved into the nearby rocks, crystal-clear waters, and the occasional waterfall.
The river banks will guide you through each microclimate as the Sierra's most prominent landmark. The further you go, you will watch vegetation grow shorter and denser – and the sun will begin to shine brighter and hotter. If it gets too hot, stop at the closest pool and take a quick dip.
After your swim, you can recharge batteries at any nearby food stall. All the prettiest pools have small thatched huts, where you can buy a steamy bowl of arroz congrí (rice with black beans and spices) with a few pieces of crunchy roast pork or a pan con lechón (spicy ham sandwich) and local light beers such as Cristal or Bucanero.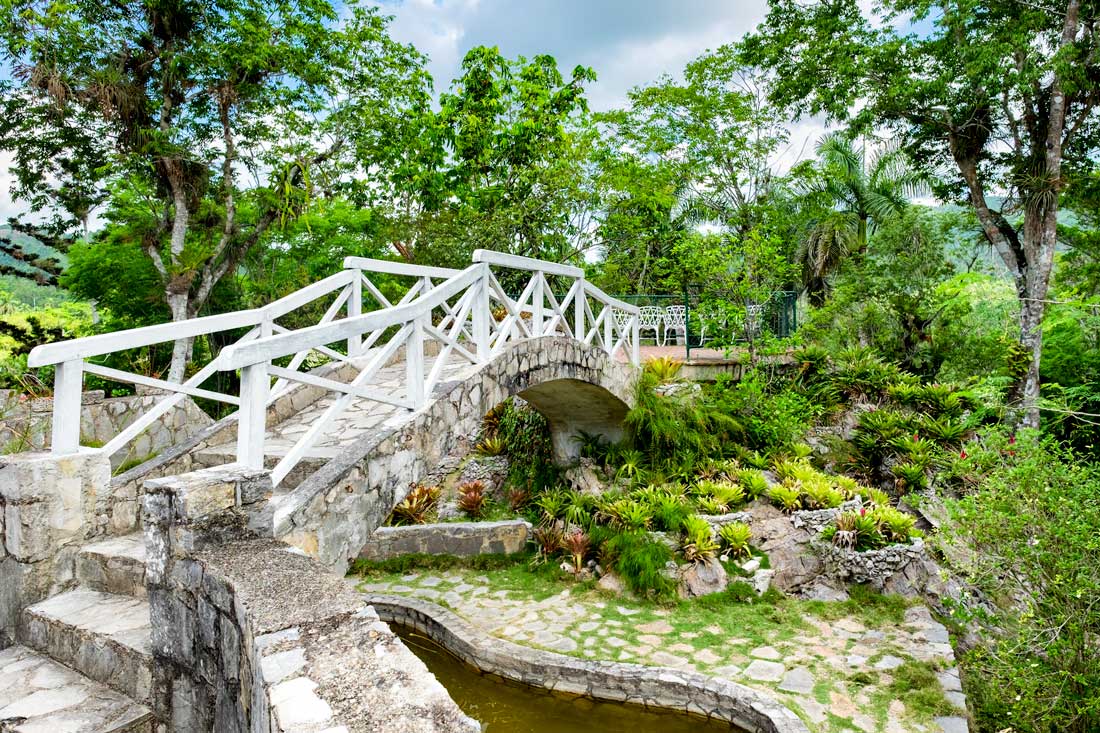 Soroa Orchid Botanical Gardens
Photo: Shutterstock
Soroa Orchid Botanical Gardens
The island's largest orchidarium is half-hidden between two taller hills, slightly further away from the river. This ravine offers a very stable "hot" bubble which now houses over 700 varieties of orchids (100 of them endemic to Cuba).
The Soroa Orchid Botanical Gardens has its own adjacent museum, where you can find more information about the species and potential of many of the orchids found here. The true gift awaits after you learn all the theory: spread over cobblestone paths, hanging bridges, and fountains, Soroa infuses its manicured gardens with an exuberant quality. This isn't Versailles, but it is no raw jungle either.
As you exit the gardens, take a quick detour to the Salto de Soroa waterfall. Here, unadulterated nature takes over again: vines and butterflies frame a 22-meter-tall water curtain, which splashes with full force on the nearby rocks.
The rock wall is too steep and slippery to be climbed directly, but you can go around it to find the Castillo de las Nubes or "Cloud Castle." This miniature, faux-medieval building doubles as a looking point and a rustic backpacker's lodge.
18th-Century Coffee Estates
Close to the top of the nearby mountains, you can finally escape the humidity from the nearby river. Yet, the jungle continues unabated, with trees standing tall and protecting bushes and people from the sun. You are standing in one of the world's best microclimates for growing coffee, and between the 18th and 19th centuries, this cash crop was the economic engine of the island.
Now, the Sierra del Rosario houses more sustainable, less water-intensive businesses, but you can still visit the old buildings left behind.
One of the best-known ones is the Angerona estate, declared a national monument. Many of its old buildings are still standing and are solid enough for you to step inside and take a tour around the past while you play around with old-school roasters and grinders.
Other smaller cabins are now surrounded by the forest, with their walls overtaken by vines and small animals. Here, nature wants to take back the land for itself, but it can't help but twist around artificial shapes.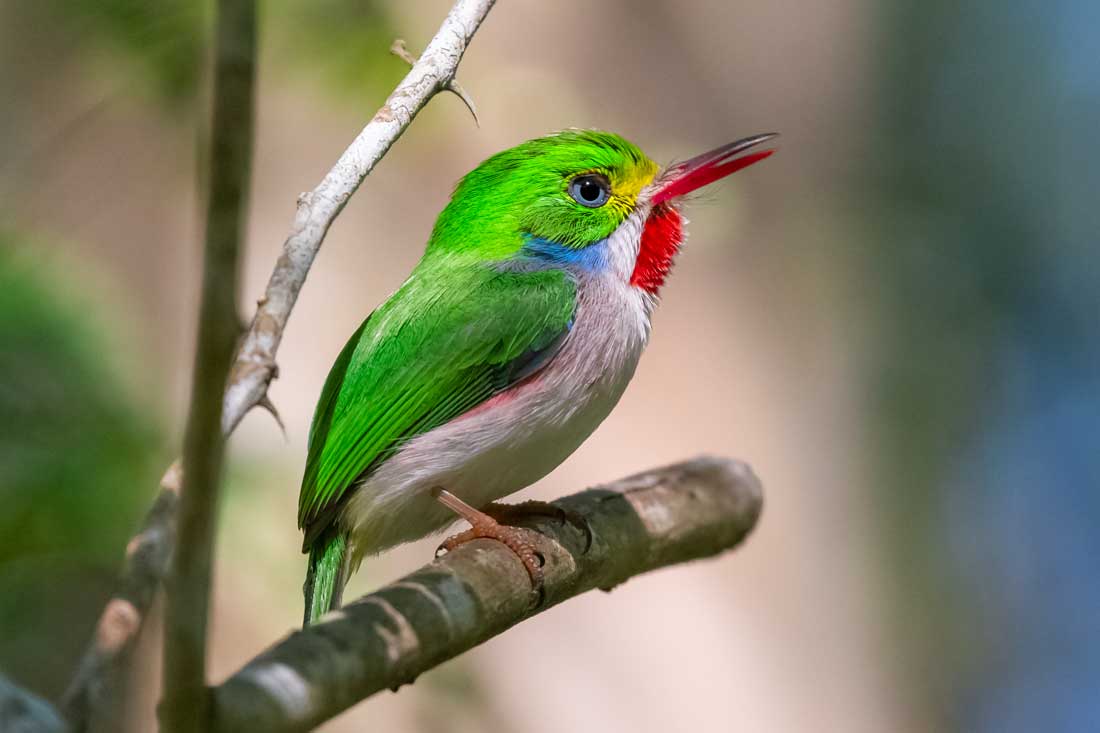 Cuban Tody (todus multicolor) sitting on perch
Photo: Shutterstock
A Haven for Bird Lovers
If you're a birdwatching aficionado, the Sierra del Rosario will likely be the one region in Cuba you don't want to miss. The Reserve is a great spot to stalk many local bird species, such as:
- The cartacuba or Cuban tody, a tiny bright green bird with soft strokes of blue, pink, and white feathers.
- The green carpenter, which can be easily recognized for the bright red crown on its head.
- The tocororo or Cuban trogon. This bird is not just unique to Cuba, but it also embodies its flag (deep navy blue body with white and red detailing) and an easily-recognizable song.  
If you are lucky, you can run into any species as you visit the lake or trek towards a waterfall. However, your chances of success will be radically better if you arm yourself with binoculars and brave a looking spot before 6 AM. You can also spot the many colorful frogs, lizards, and hutias that live in the area. Just remember they move fast!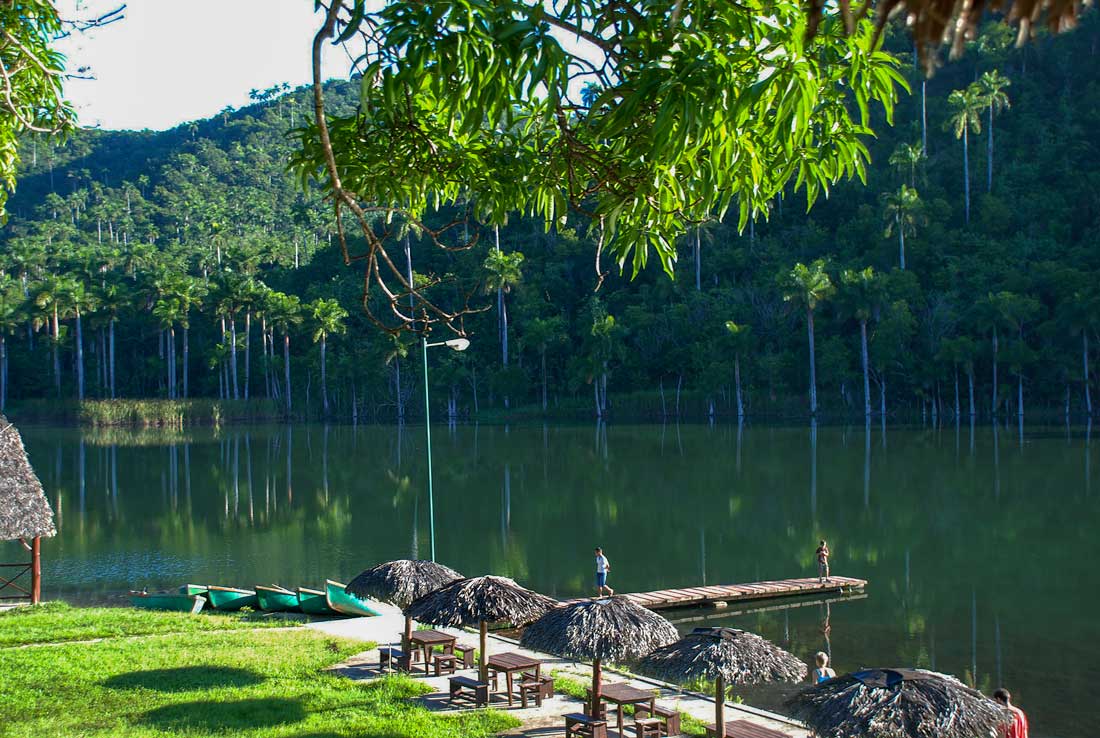 San Juan River, Sierra del Rosario nature reserve
Photo: Shutterstock
A Few Tips Before your Trip
Largely untouched, the Sierra del Rosario keeps its treks delimited to a few roads. If you want to move around the area, you will need some sort of vehicle. If you have little experience with tropical hiking or feel like your knees won't enjoy hills and sticky mud, we recommend renting one with an engine. This will help you make a short job of the distances between each trail and sight.
If you'd prefer to dive deep into the region's environmentally friendly spirit, you can also rent a bike from any local hotel. This will also let you explore the mountain biking trails in the area, which cross the Reserve and connect it to nearby rivers.
Reconnecting with nature means standing toe to toe with its small creatures. Mosquito repellent is not optional, especially during the late afternoon or after a drizzle. If you are fond of sweet-scented perfumes or deodorants, best to switch them for a neutral alternative (think "baby powder" or "clean" scents) during your visit.
Finally, if you know you're allergic to bug bites, carry your own allergy pills!
Should tourism and wildlife conservation be enemies? The Sierra del Rosario seeks to prove otherwise! While you take a dip in its pristine waters or stop everything to listen to its birds singing, you will undoubtedly be tempted to believe sustainable tourism is possible and even fight for it after you return home.
Written by Javier Montenegro.
Published October 2022.
Five of the Best Beaches in Cuba
Looking for a quick getaway or an island escape? We've rounded up a list of the best beaches for you to kick your feet up, relax, and enjoy the best Cuba's coasts have to offer!
Playa Ancón beach near Trinidad
Photo: Shutterstock
Explore Cuba's Wildlife & Nature
Subscribe to our newsletter
Get more travel inspiration, tips and exclusive offers sent straight to your inbox