Adventure Travel
Explore the Glittering Caves of Bellamar
Cuevas de Bellamar, Matanzas
Photo: Alamy
Are you an adventurer at heart? Then Cuevas de Bellamar should surely be on your radar.
The Caves of Bellamar are among the principal natural examples of Cuban geography and considered a national heritage site since 1996. Hidden in the province of Matanzas, near the ever-popular Varadero Beach, Bellamar is a cave system with caverns formed around 300,000 years ago, extending 23 kilometers beneath the surface.
These magnificent caves were discovered in the mid-19th-century by an enslaved person who was simply trying to open a hole in the ground, and discovered an underground world, making this one of the oldest travel destinations in Cuba.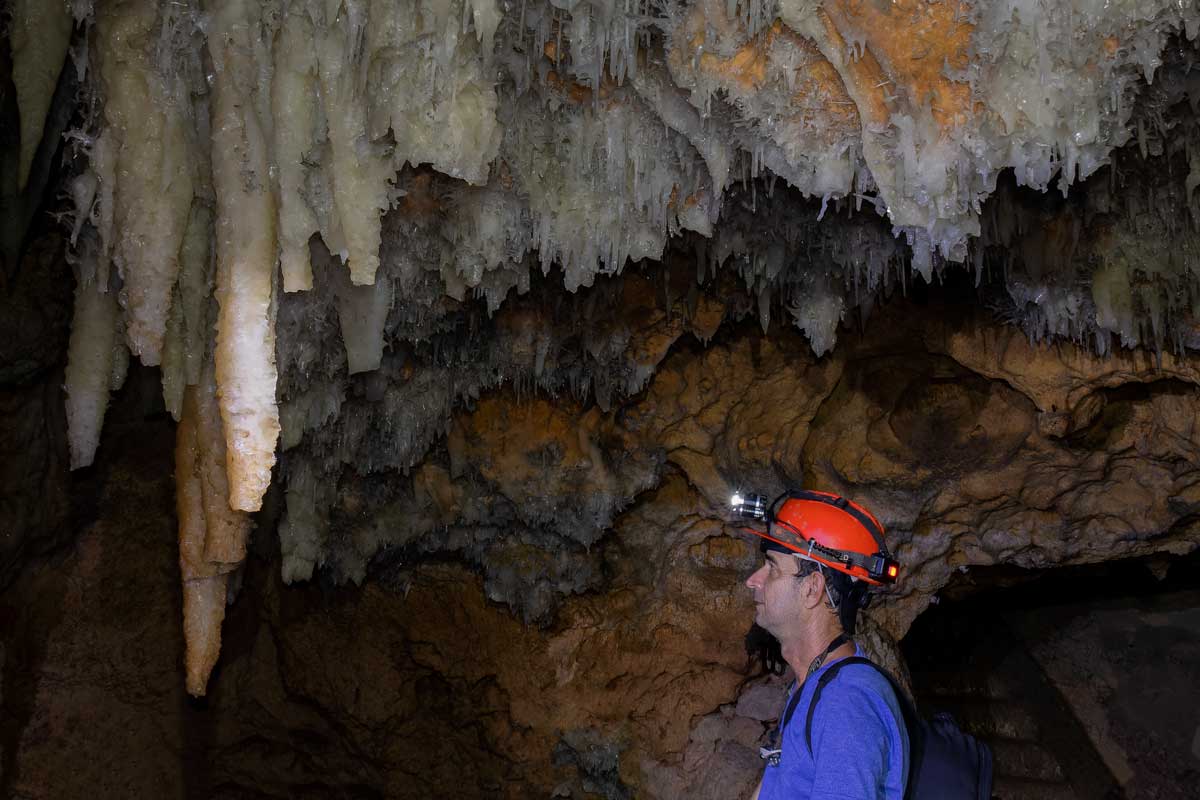 Man exploring Cuevas de Bellamar, Matanzas
Photo: Shutterstock
Enter the Caves of Bellamar
Our journey begins with a descent into the cave, where a railed stairway with over a hundred steps will lead you into this geological marvel. From here on, you'll begin to observe the impressive main cavern, where its famed stalactite is called "El Manto de Colón" or "Columbus's Cloak"- known for its natural beauty. This formation began around 1,200 B.C. and has become the largest on the island, with a length of 12 meters in the form of a cascade.
If you've opted to hire the service of an experienced guide, you've done good, they'll describe each cavern's eccentricities, along with interesting names given by the locals. Some titles include "If you touch me, you won't forget me," "The Passing Rain," and "The hall of snow."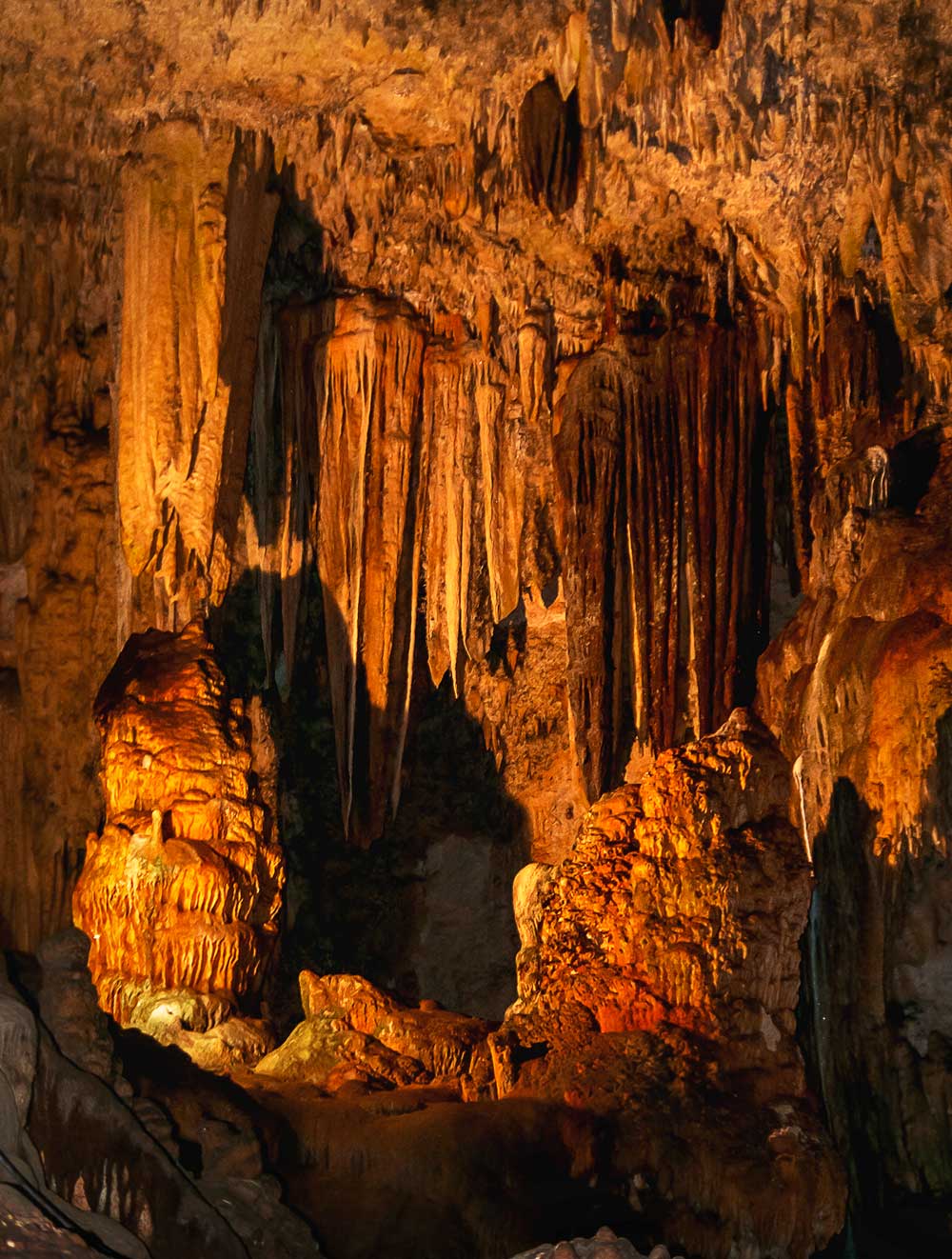 Stalactites at the Bellamar Caves, Matanzas
Photo: Shutterstock
Of Legends and Wonder
The Caves of Bellamar are synonymous with a number of legends that have allegedly taken place in its spaces. Among the tales is one of a gnome or goblin called a "Güije"- a Cuban mythological creature that dedicates its time to causing trouble.
Also, the story of La Fuente Misteriosa (the Mysterious Fountain), where a North American woman had gone to take a swim, and was never found again. Legend has it that her soul prays on little children who enter for a swim.
Keep in mind that these are just legends, and until this day no man, woman, child, or other has disappeared in the fountain - even though this sight is actually called "The American Woman's Bath." Spooky.
One of the most distinctive features within the cavernous system, is the seemingly luminous outer crystal layer of the stalagmite formations, which provokes a sense of mystique and wonder. The almost supernatural glow emanating from the crystal surfaces becomes a spectacle all on its own for any visitor, who might expect a more dark and gloomy experience, but is left in awe by the lively structures accentuating the cave walls and columns.
Another awesome place for explorers is the deep blue and turquoise subterranean stream that runs through the Bellamar Caves, where you can stop and submerge yourself in the refreshing waters of an ancient canal.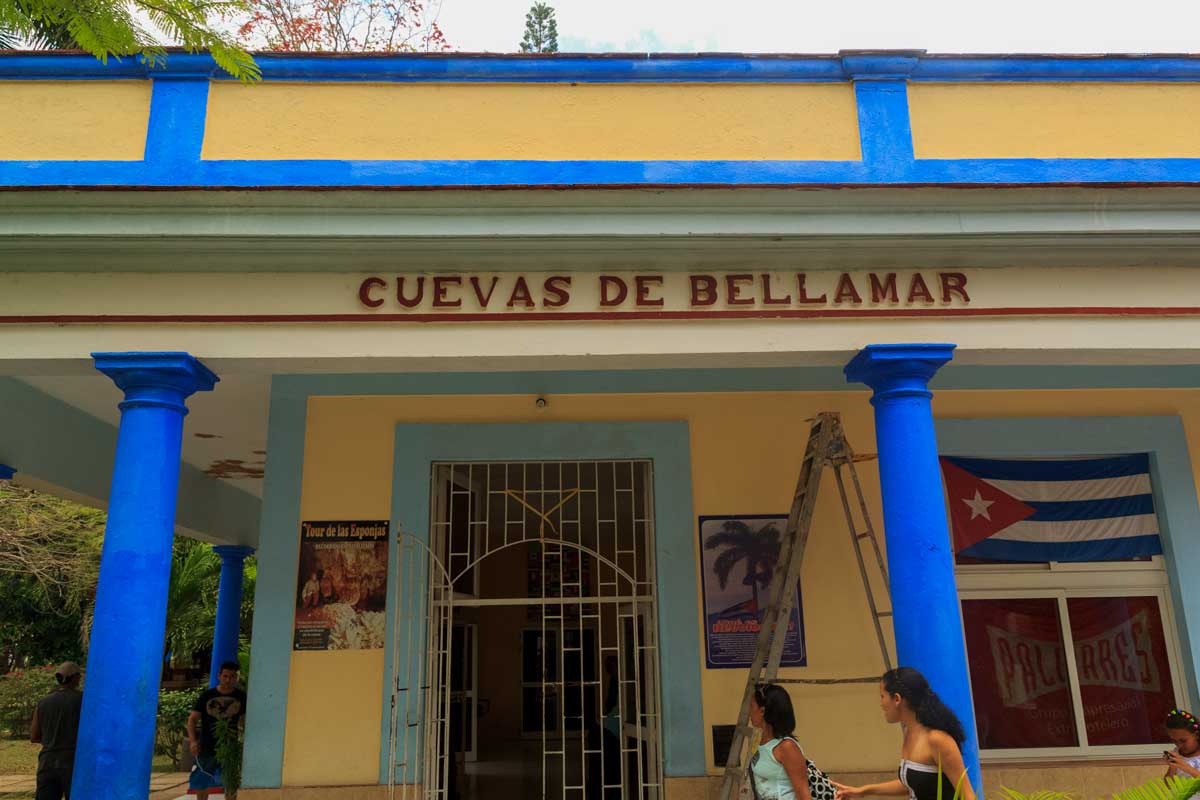 Cuevas de Bellamar entrance building, Matanzas
Photo: Shutterstock
Can't Explore on an Empty Stomach
Part of the adventure is stopping for a well-deserved meal at the Cuevas de Bellamar Restaurant - a traditional Cuban establishment with a country ranch design - where the delicious roast pork with Moros y Cristianos (rice and beans) is the preferred order of the day. And let's not leave out the ice-cold Cuban national beer.
How to visit
The Bellamar Cave system can be reached via a 1-hour private transport from Matanzas or Varadero, with an average entrance fee of U.S. $9.00 - open from 9 a.m. to 7 p.m.
Written by Gabriela Rey.
Published November 2022.
Greatest Waterfalls in Cuba
Imagine finding yourself in Cuba, surrounded by an exuberant natural environment - where the vivacious green mountains stretch out into a splendid blue sky - while the fresh Caribbean seabreeze brightens your face. And on this tropical voyage, you discover a land of waterfalls on every corner of the island.
El Nicho waterfall, Sierra de Escambray
Photo: Shutterstock
Subscribe to our newsletter
Get more travel inspiration, tips and exclusive offers sent straight to your inbox