Cuba up close
When Is the Best Time to Visit Cuba?
Beach resort in Varadero
Photo: Shutterstock
In the heart of the Caribbean, close to the equator, Cuba is warm all year round.
Are you planning a trip to Cuba for the coming year? From its tropical beaches to internationally-renowned classical ballet performances, this curvy tropical island has fun activities for every taste. But as you try to narrow down your itinerary while in Cuba, you may wonder what the best time to visit Cuba is.
Will the weather allow you to do everything you want? Is there a festival that would put your experience on steroids? Read more here!
Cuba Climate: What To Expect Around the Year
The first thing that will change depending on the month of your visit is the weather. Like the rest of the Caribbean, Cuba is a land of "endless summer" – at least at first glance. While you can definitely find outdoor activities around the year, some months will have cooler climates, sunnier skies, or even lower prices.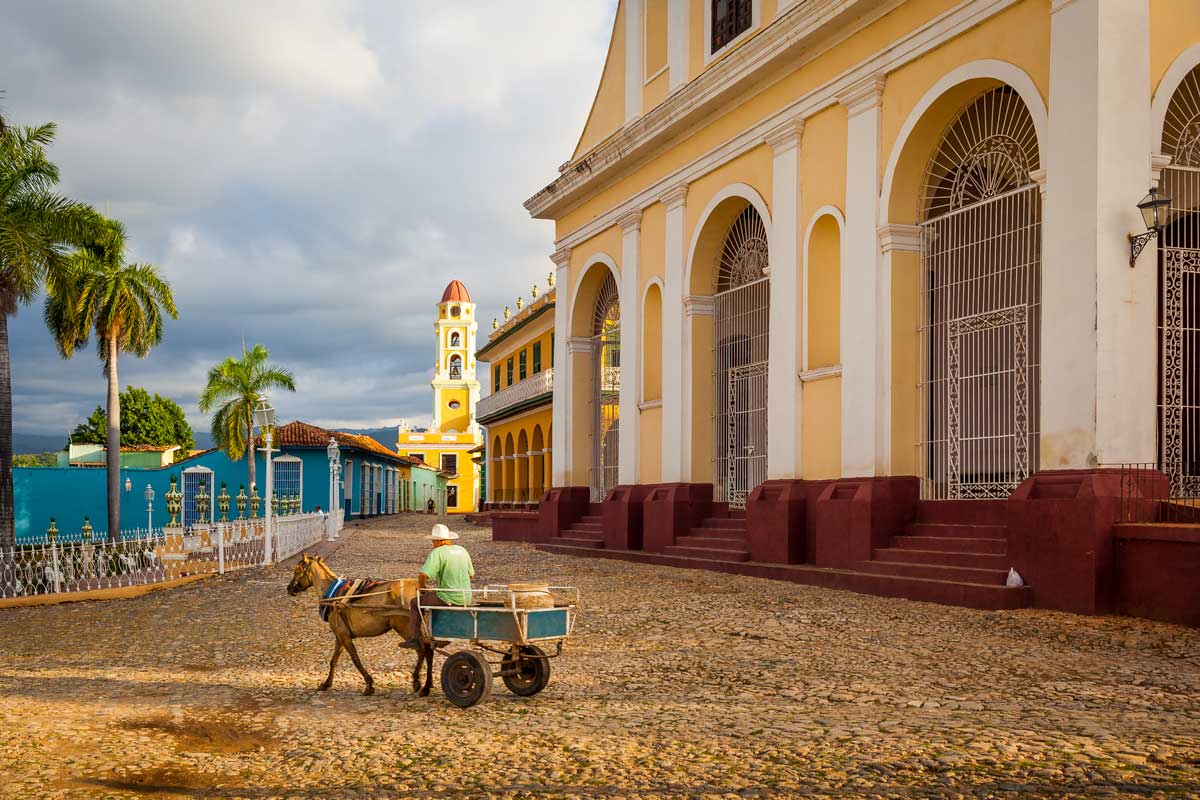 Church of the Holy Trinity overlooking Plaza Mayor, Trinidad
Photo: Shutterstock
Seasons in Cuba

Cuba doesn't have the traditional four seasons that temperate regions do. Instead, it has just two: a "dry" season and a "rainy" one.
The dry season lasts from November to April, and it is characterized by less frequent rain, although it's far from completely dry. During December and January, average temperatures also dip slightly (but never reach "cold" levels under any definition), and the air gets a bit drier, which helps the air feel cooler overall.
The rainy season lasts from May to October. Expect short showers nearly every day and full-blown rainy days at least once a week during this season.
As local legend would have it, the first rains of May are particularly auspicious, as they can relieve chronic diseases and cleanse your spirit from impurities.
Hurricanes in Cuba

So what about hurricane season? Technically, hurricane season overlaps with the end of the rainy season, between June and November. During this time, the sky can go from bright to gray in a matter of minutes.
As for actual hurricanes – they rarely hit the island, and they are unlikely to affect your safety or your belongings. Cuban citizens like to joke that nothing works as well in Cuba as the Civil Defense office. You may need to spend a day safe indoors, but on the other hand, you will be able to experience one of the quintessential "island experiences."
High versus low season

Let's talk about tourism seasons, as they will affect the ease with which you book and the final cost of your trip.
There are two peak tourism seasons in Cuba. The first one goes from late December until March (or from Christmas to the Easter break). This is also the sunniest and coolest time of the year when the beaches are at their most enticing (and if you come from the Northern Hemisphere, that's exactly what you'll be needing).
The second "peak" covers most of July and August. During this time, Cuban schools will be on recess, so expect longer lines at many nature parks and museums, and you may need to share the beach with other humans.
The low season goes from early May to late June (prices drop as temperatures rise) and between September and October (tourism slows down at the start of hurricane season). During this time, expect lower prices, quieter beaches, and the opportunity to stroll around museums at your own pace.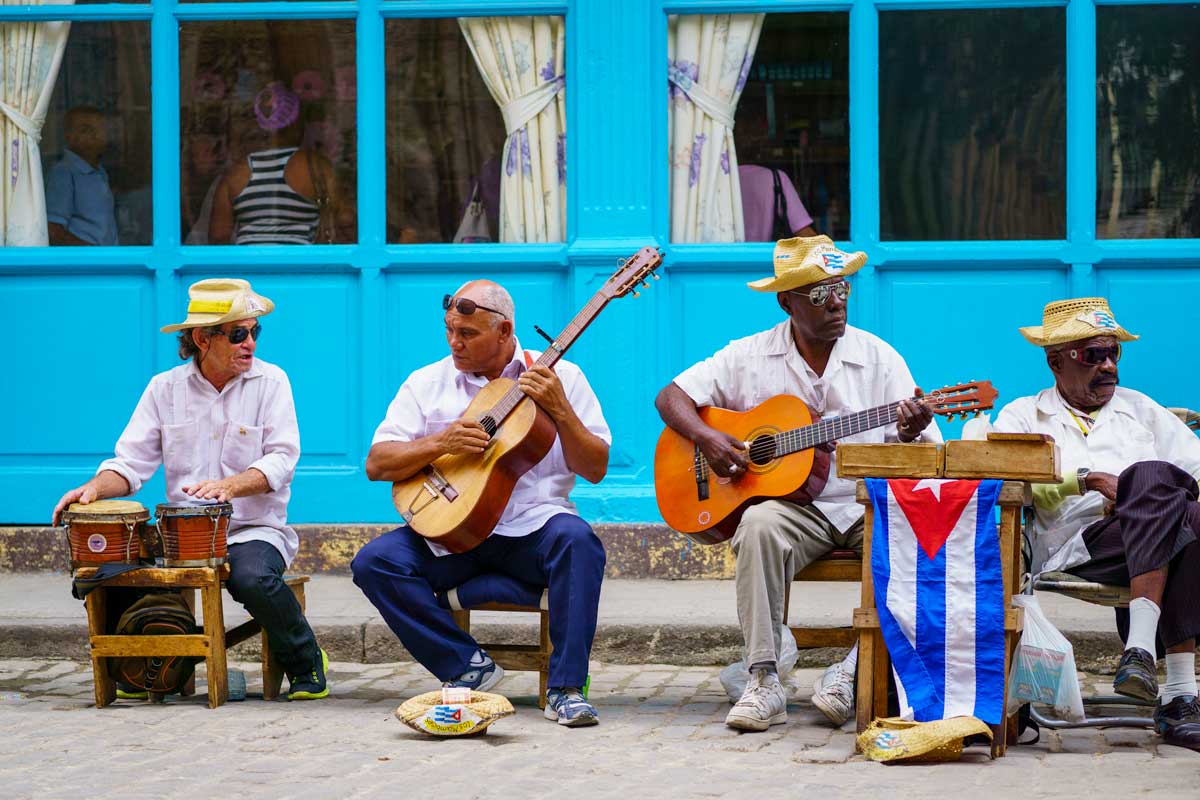 Street musicians in Havana
Photo: Shutterstock
Dealing With the Tropical Heat
If you live in a cooler or temperate country, you may be worried about handling Cuba's tropical heat. The sharp temperature change can be a bit disconcerting, especially if you travel during your winter. Don't worry! In my twenty-something years of living on this island, I've gathered a few pro tips that will help you handle the heat waves as the locals do:
- Make sure you wear sunscreen of at least SPF 50. Even if you don't "burn and peel" easily, a mild sunburn will leave you with a permanent cloud of heat around your body the next day.
- Wear loose, thin clothes with long sleeves in cotton or linen. Try to keep the handcuffs and waistlines loose to allow air to flow around you.
- Remember, "siesta" was invented for a reason! Just because we all seem to disappear right after lunch doesn't mean we are truly sleeping. Between noon and 3 PM, it's best to plan an indoor activity (preferably somewhere with A/C)
- Check if your hotel room has A/C. If you're staying at a rented apartment or home, look for one that has a sun porch or terrace and embrace the island schedule.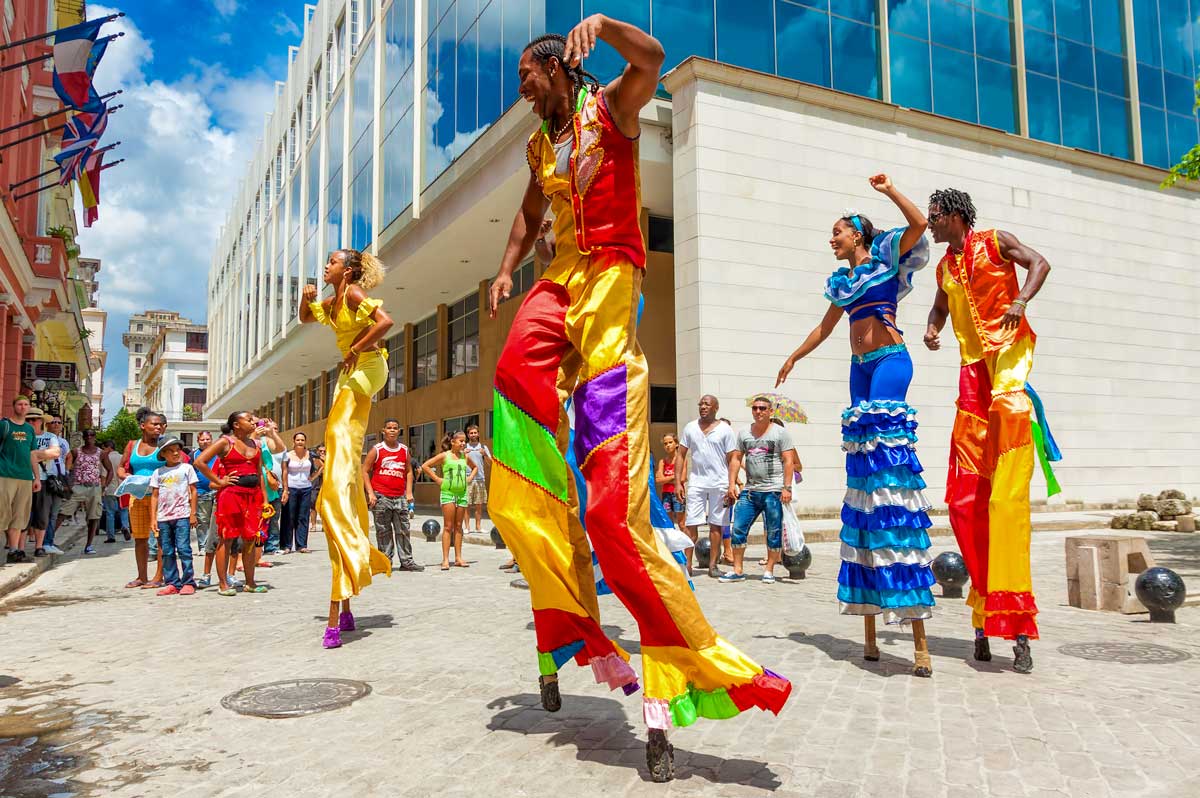 Dance performance in the streets of Havana
Photo: Shutterstock
Festivals and Celebrations
Cuba is much more than its countryside. Its cities host a variety of festivals, summits, and parades that can be just as fascinating – it all depends on what you are looking for. From street parties to the chance of experiencing the biggest stars of vintage rhythms, it all depends on when you come.
Here are some of the highlights to look forward to:
January: The year kicks off with the country-wide celebrations for the Anniversary of the Revolution. In Havana, this is followed by the International Jazz Festival, which brings some of the genre's biggest stars to the city.
February: The Habano Festival is all about one of the country's top exports. You can visit Cuban cigar factories and tobacco farms, attend seminars, or book special cigar dinners that blend signature aromas with the right food pairings.
March: The largest Carnival on the island is held at Santiago de Cuba. Parades can easily last until 3 AM, but the party usually continues until sunrise.
April: The International Biennial of Graphic Humor, held at San Antonio de Los Baños, gathers cartoonists and satirists worldwide.
May: The Romerías festival combines a Spanish harvest festival with religious rituals. The town of Holguín dons its best clothes for a series of free concerts, parades, and a collective pilgrimage atop the local hill.
June: Head to Trinidad for the Fiestas Sanjuaneras or San Juan fest, which marks the longest day of the year. Dance to some of the oldest forms of African music still alive and beating.
July: During the Fiesta del Fuego (Fire Festival), the city of Santiago de Cuba loses itself in revelry to welcome back the Nzambi Congo, an ancient African deity, who is then paraded through the streets.
August: Havana's International Hip-Hop Festival (Urban Potaje) takes place on the second week of August, just as the Havana Carnival cools down on the 7th.
September: The Feast of Our Lady of Charity (La Virgen de la Caridad) offers an unusual window into the island's traditional religious fervor. As she is the island's Patroness, expect her Feast to open the gates of every colonial church in Havana.
October: The International Ballet Festival of Havana may provide a window for traditional dancers, but in the smaller city of Matanzas, you can dance to the faster rumba rhythms during the Rumbero Bailador Fest.
November: In Majagua, the Red and Blue Bands Party divides the population into two teams for sports competitions, food fairs, and traditional dances.
December: In the city of Remedios, Christmas carols are replaced with Parrandas, loud and boisterous competitions in which each neighborhood prepares a special "surprise" while trying to spoil their rivals'.
Mountain biking in Viñales
Photo: Shutterstock
Outdoor Activities
If you need sunshine and fresh air to recharge, you may have a harder time choosing the ideal dates for your trip – especially if you are booking months in advance. These activities will depend heavily on the day's weather, which is particularly unpredictable in Cuba.
However, that doesn't mean that some dates won't increase your chances of success. Here are a few considerations:
- Planning to hike, camp, or mountain bike? Then try to come during the dry season. During the rainy season, trails may be muddy, and some parts of the countryside may be inaccessible just as you're passing by.
- Snorkeling and scuba diving technically just need a sunny, beach-worthy day. Try to leave a couple of "free" days on your schedule so you can rebook any activities.
- The fishing season in Cuba goes from March to June. If you're interested in a specific species, check with your tour operator, and expect to "capture and free" your catch!
- If you want to sail or surf, avoid hurricane season. Even if no hurricane is headed for the island directly, one passing through a nearby island could make the Coast Guard keep you ashore.
Written by Liz Lezcano.
Published October 2022.
Looking for some cool things to do?
Subscribe to our newsletter
Get more travel inspiration, tips and exclusive offers sent straight to your inbox