Cuba Up Close
Your Essential Guide to Cuban Culture & Customs
A group of Cuban musicians in Havana
Photo: Shutterstock
Let the Culture, Customs, and Cuban People draw you In!
Embarking on a trip to Cuba doesn't only mean enjoying spectacular Caribbean sunsets, exuberant flora, and sweet tropical climate for the perfect swim - but the opportunity to immerse yourself in Cuban culture made up of creative and entrepreneurial people.
It's the classic old-school cars coasting down the streets of Havana, the historical architecture and legendary landscapes - it's the contagious music, tropical dances, seductive spices, and homey hospitality that enamores the senses and captivates the soul.
Feeling anxious to start the adventure already? Before you go, we'll guide you through the basics of Cuban culture, everyday customs, and what to know. With this pocket guide, you'll have the confidence to blend in with the crowd and even throw a few Cuban phrases out there.
A culture embedded in its people
Want to know how the island got its name? It's believed that the word "Cuba" originates from the ancient Taíno language that is still reflected in Cuba's towns, provinces, and local jargon. For many anthropological experts, the word Cuba is a derivative of the Taíno "Cubanaca," which means "place in the middle" due to its geographical location in the Caribbean.
Cuba has one of the richest cultures in the Caribbean, with a condensed mixture of aboriginal and foreign traditions, most notably those of African, French, and Spanish descent, that form the modern-day Cuban people.
African heritage can be heard in the rhythmic sound of the drums and congas in Havana's streets. The Spanish legacy can be savored in every spoonful of Abuela's (grandma's) seafood Paellas, and the sweet taste of the Mamey or Mamee fruit will connect you to its indigenous past.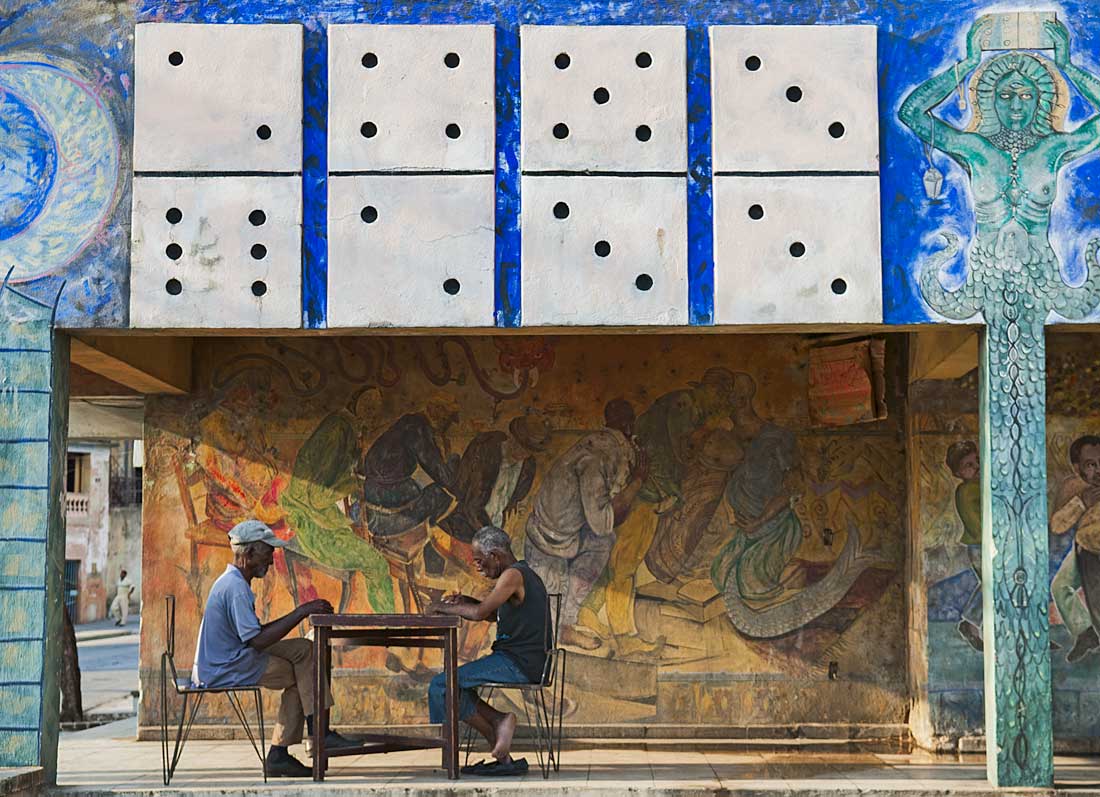 Cuban men playing dominos, Santiago de Cuba
Photo: Shutterstock
Customary Cuban greetings
The official language spoken in Cuba is Spanish, of which we'll show you a few quick phrases that will come in handy. Greeting locals can vary depending on your level of comfort and trust with each person.
If you find yourself in a formal setting, it's best to keep it safe and give a friendly "Hola!" when entering any locale. Also, depending on the time of day, greetings will vary:
"Buenos días" (good morning)
"Buenas tardes" (good afternoon)
"Buenas noches"(good evening and goodnight)
Now, among best friends, and familiar groups, you can use the slang term "¿qué bolá?" or "¿qué vuelta?" which is basically "what's up?" in Cuba.
New Year's celebrations
This is one of the most significant dates for the Cuban nation, with a host of traditional activities that can't go missing - like roasting an entire pork in your backyard as the whole family gathers to sing, dance, and sway to the music.
Households typically serve boiled Yuca topped with a flavor-packed marinade called "mojo criollo" that's an indispensable staple in Cuba - along with arroz congrí and a seasonal salad of lettuce, tomatoes, and beans. Then, the local tostones (plantain chips) and sauteed pork chops to bring it all together.
With a banquet like this, you're pretty much set for the all-nighter new years celebration filled with cheer, Cuban rum, and good beer. And just for the occasion, light up a world-class Cuban cigar for a complete experience.
Want to learn more about Cigar production in Cuba? Discover The Secret behind the Legendary Cuban Habano.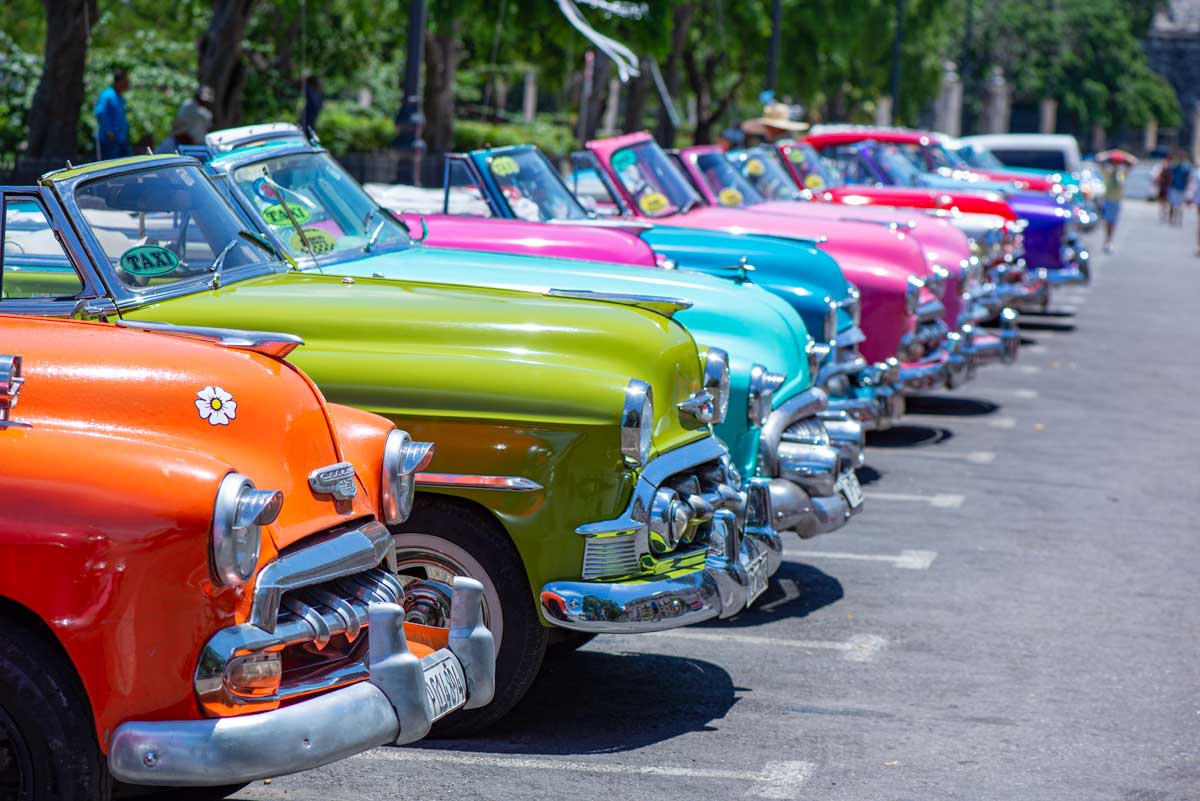 Almendrones, classic american cars in Havana
Photo: Shutterstock
Almendrones
Among the most iconic images of the island are the classic American cars called "Almendrones" that still circulate in Havana, the capital of Cuba. Thousands of locals and visitors can be seen riding in 1950s Ford Fairlanes, Studebakers, Cadillacs, Pontiacs, and Chevys, which have become an international symbol of Cuba.
The name "Almendrones" or "Big Almonds" was given to them for their almond-shaped designs. Although these sweet rides are from the 1950s and '60s, their owners have kept excellent maintenance on them, which has led to their longevity.
Cuban music
Cuban music is loved by visitors of all walks for the diverse rhythmic sounds of Afro-Caribbean percussion with melodic piano riffs that'll have your hips moving during your stay. Some of the most popular genres you'll hear are Danzón, considered the national dance of Cuba - Son, known as a dynamic and stylish genre particular to Cuban culture - and Mambo, which gained international recognition since its introduction in the 1930s.
Cuba also has a huge jazz base in the capital, where you can visit any of these Top 4 Jazz Clubs in Havana for nights out.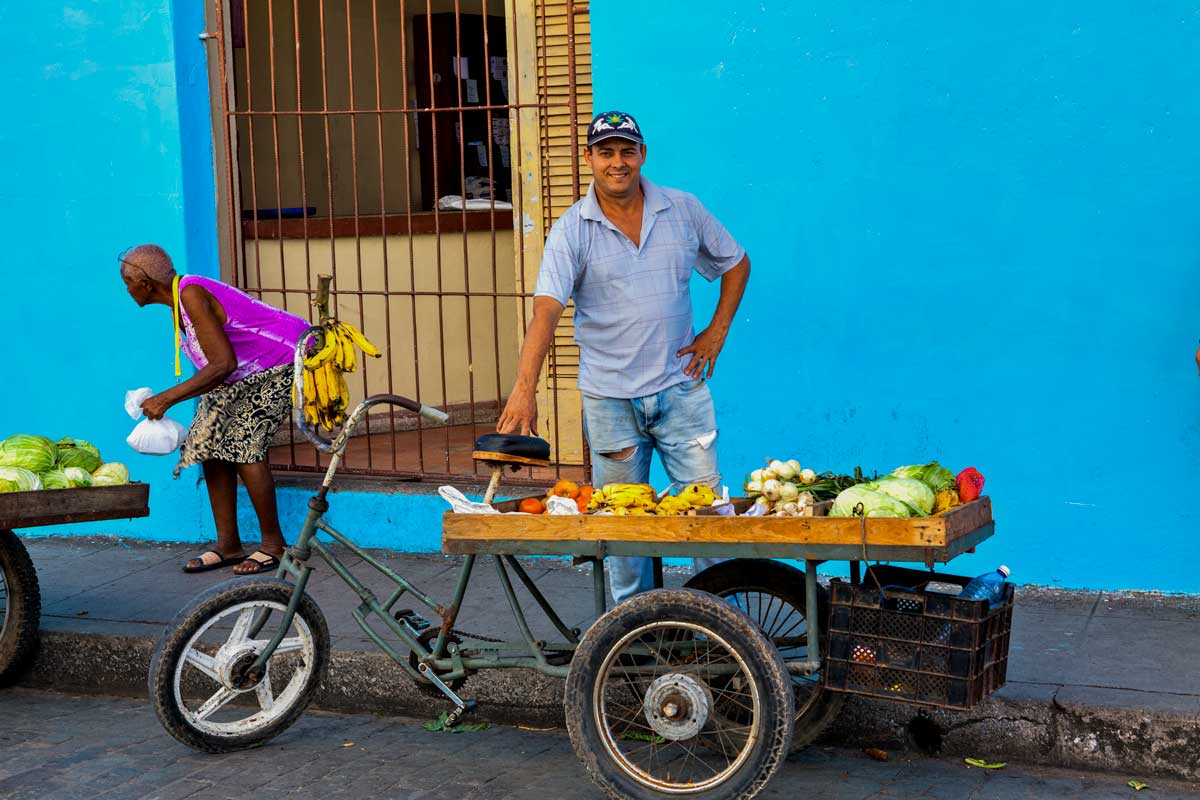 Street vendor in Camaguey
Photo: Shutterstock
Cuban street vendors
The Cuban street vendor's cry has been a national tradition dating back to the 19th century to promote their merchandise while they walk along the city streets and country roads. Their products typically include fresh produce, herbs, spices, and lentils - to the popular bocaditos de helado (Ice-cream sandwiches) and all-natural treats like tamales cubanos.
You're sure to hear a variety of vendor proclamations daily in Cuba, and they have become an almost indispensable part of life on the island. These street vendors have even inspired artists and musicians to create art and song, like Rita Montaner's famous track "Manisero" (the Peanut Vendor).
Cuban cuisine
Cuban cuisine is among the most popular dishes in the world, with a harmonic fusion of African, Spanish, and indigenous influences.
The most traditional staple in Cuba is the Taíno cassava bread made from the yuca plant, which has been grown in the western hemisphere for thousands of years. Not only is cassava easy to prepare, but it has a high nutritional value and goes great with all kinds of sauces, meats, and stews like ajiaco and sancocho con aji.  
Now, one dish synonymous with Cuban culture all over is the ropa vieja (old clothes) recipe. Although the name doesn't conjure up the most pleasant thoughts, the flavorful taste of this stripped beef plate overshadows the title. Ropa vieja goes excellent with a side of tostones or moros y cristianos (Cuban rice and beans) for a more hearty meal.
Hungry for more? Take a look at the Top 5 street snacks in Cuba for more mouthwatering delectables that will satisfy your palette on your trip to Cuba.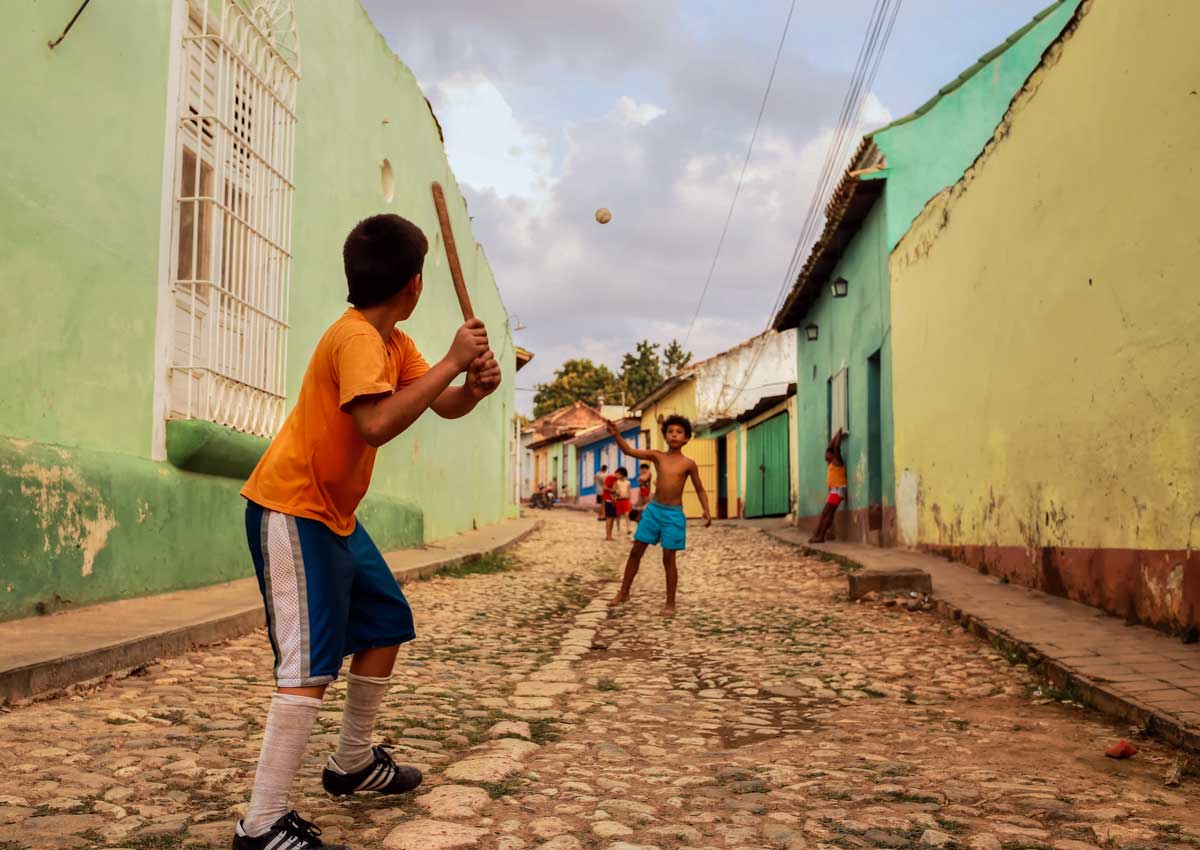 Cuban boys playing baseball in Trinidad
Photo: Shutterstock
Sports in Cuba
Cubans are active people who love playing sports in the open - official playing fields, town parks, or even beach areas.
Baseball is the national sport and pastime in Cuba, with millions of fans across the island cheering on their favorite teams. From a young age, Cubans quickly develop a natural inclination to the sport and dream of one day being a 'Beisbol' star. Also, Cuba has been known to produce legendary Olympic boxers and excel in football and volleyball.
Written by Teresita Padrón.

Published November 2022.
Explore Cuba's Art & Culture
Subscribe to our newsletter
Get more travel inspiration, tips and exclusive offers sent straight to your inbox