Beaches & Islands
Cayo Coco: The Ideal Cuban Paradise
View of Cayo Coco
Photo: Shutterstock
An Island Dream in Paradise
In the northern region of the central Cuban province of Ciego de Avila, Cayo Coco stands out beautifully from the environmentally diverse and highly protected Sabana-Camaguey archipelago.
This marvelous cay has become a natural tourist attraction, with some of the best beaches in Cuba, a comforting paradisiac landscape, and a wide range of exciting all-terrain and aquatic activities. That's if you ever feel like leaving your chaise lounge on the powdery beach.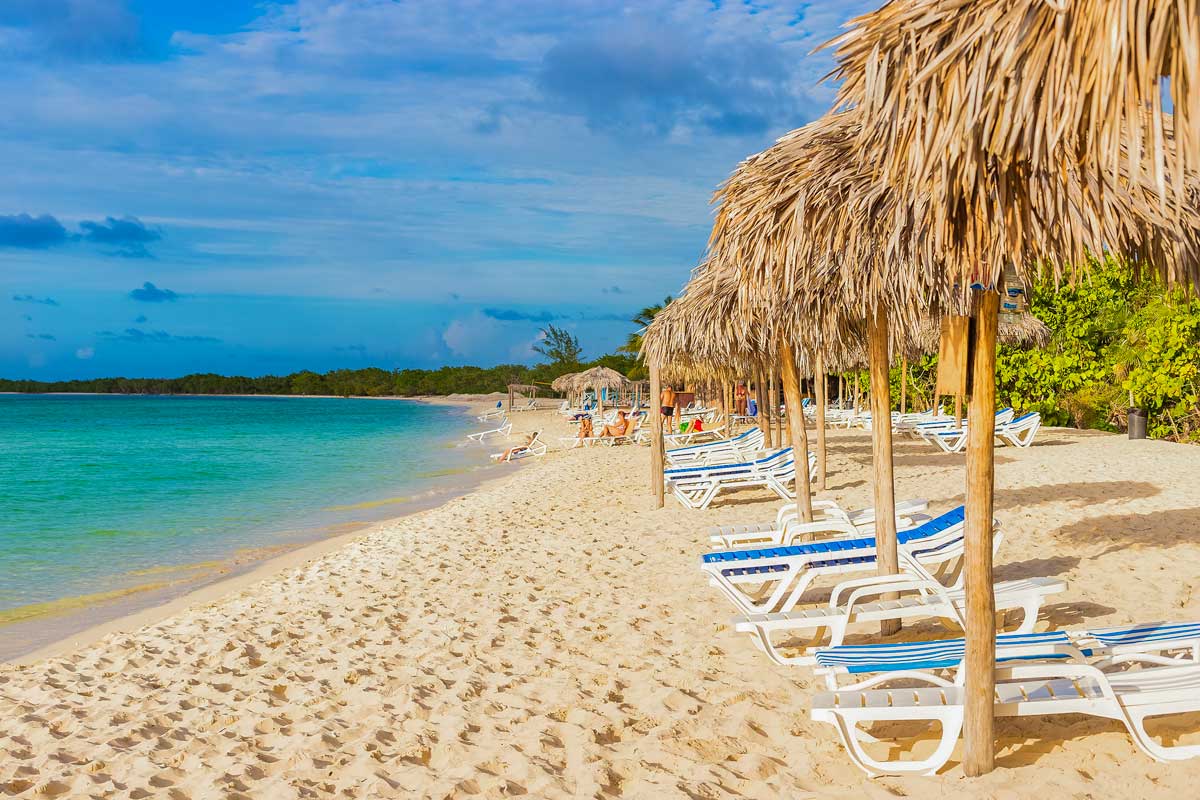 Cayo Coco beach
Photo: Shutterstock
Cayo Coco's Hottest Beaches
This lovely cay is part of a more extensive line of cays known as Jardines del Rey (Gardens of the King), which includes Cayo Romano, Cayo Cruz, and Cayo Guillermo, respectively. However, Cayo Coco's principal attraction is the piercing blue and crystalline water beaches that form its coasts.
Here are a few of our favorites:
Playa Flamencos Beach
As you can tell by the name, you can surely expect a wildlife encounter with the pink flamingos that call this beach home, and from the looks of it, you'll want to call it home too.
Playa de las Coloradas
A bit of a 'rustic haven,' Las Coloradas beach offers a more secluded detour from the most sought-after beaches.
Playa Larga
Known as the Long Beach, Playa Larga stretches its beautiful sands out for 2 ½ kilometers, from where you can also visit other equally attractive beaches like the famous Playa Pilar in Cayo Guillermo.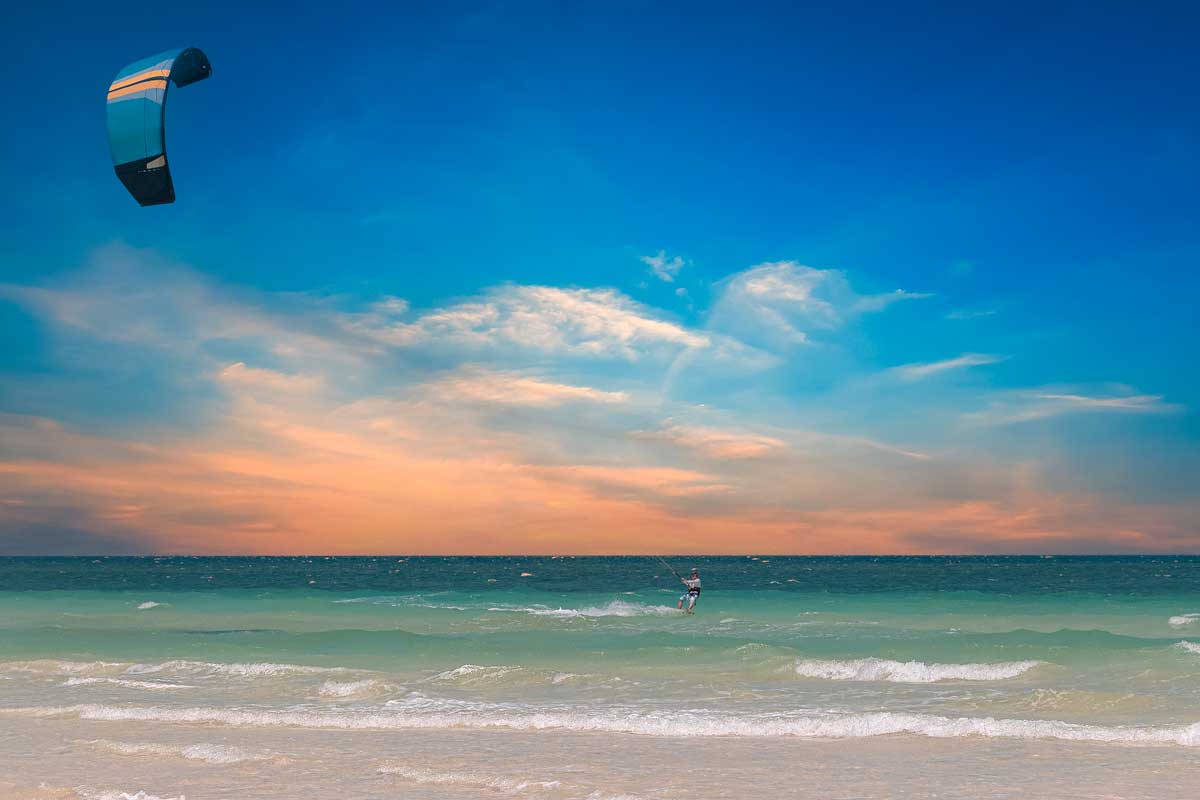 Kitesurfing, Cayo Coco
Photo: Shutterstock
Things to do in Cayo Coco
As Cayo Coco is an eco-travel destination with a natural layout, many activities are centered on creating unique experiences for its visitors. The most tempting to try is scuba diving along the Coraline barrier reef, decorated with schools of colorful tropical fish and a picturesque seabed. But, if you don't want to go through the scuba training, snorkeling will do OK to check out the marine life and stay close enough to run back to your Cuba Libre at the shore.
Another excellent encounter is swimming with dolphins out at sea or closer to the coast aboard a catamaran. And if you're into sports, we recommend kitesurfing at Playa Larga, rock climbing at the Rocarena Climbing Center, or planning a fascinating bird-watching excursion.
Parque Natural El Bagá
A genuinely memorable adventure is a tour through the El Bagá Natural Park at Cayo Coco. The park has around 3 thousand acres of reserved land for the conservation of its ecosystem and was opened to allow travelers to experience Cuba's wild nature. Among its biomes, you'll find Bagá or Breadfruit tree forests, mangroves, water canals, and coastal lagoons - in which you'll see beautiful and tropical endemic flowers and cacti.
Numerous reptile and amphibian species roam the park, like crocodiles, iguanas, and tortoises. In addition, the presence of bird fauna is significant as the Jardines del Rey is part of a central migratory bird corridor in the Caribbean.
Bagá Natural Park also has a recreated aboriginal village depicting Taíno Indian life before Columbus, while just ashore, an old pirate ship lays in ruins as a reminder of foreign arrivals.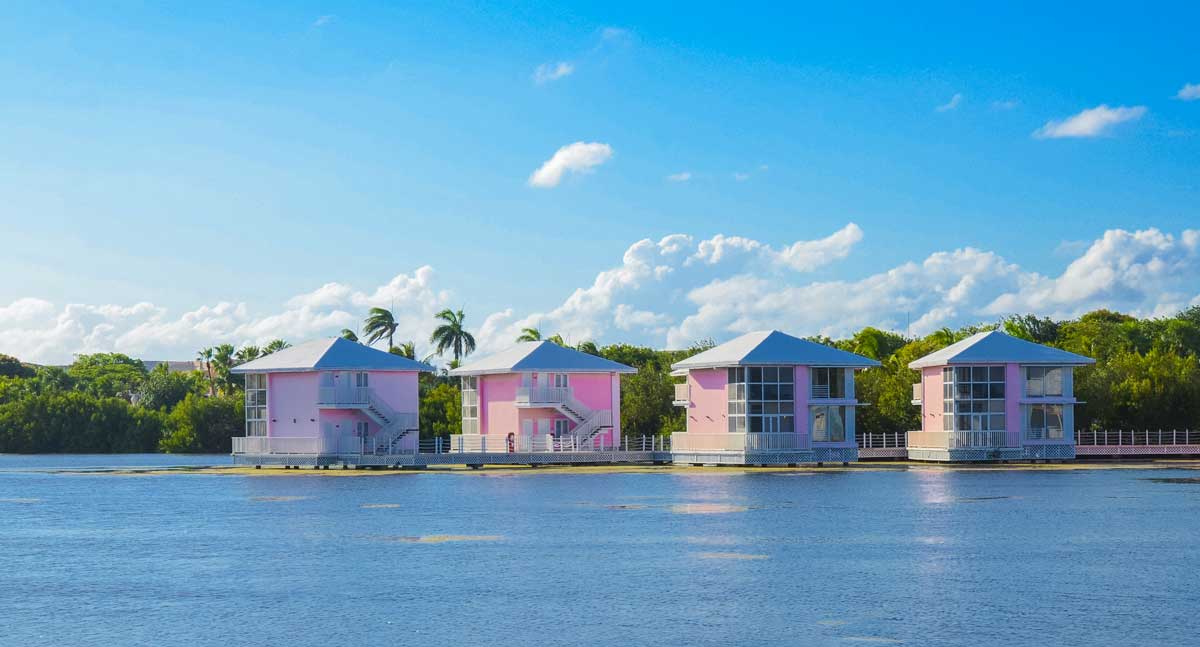 Hotel villas, Cayo Coco
Photo: Shutterstock
Best Places to Stay in Cayo Coco
Cayo Coco has about ten hotels and resorts where you can spend an excellent vacation, but here are the top 5 that'll make all the difference during your stay.
Sol Cayo Coco and Hotel Pullman Cayo Coco are located in prime ocean-view beach areas with fantastic all-inclusive service.
Hotel Colonial Cayo Coco adheres more to Cuba's history and culture, with 19th-century architecture, natural green gardens, and a comfortable distance from the ocean.
In the case of Melia Cayo Coco, Memories Beach Caribe Resort, and Cayo Coco Beach Resort, you can expect to be catered to with impeccable service and high-quality standards for a more refined experience.
Getting there
The quickest and most efficient means of access to Cayo Coco is by plane to the island's Jardines del Rey International Airport. This way, you can avoid the long road to the Ciego de Avila province and from there to the islets via a rock embankment that connects to the mainland.
Nevertheless, there's always the option of taking a private taxi or an airconditioned omnibus from Havana International Airport (approx. 7 hours) or taking off from Varadero ( approx. 5 hours).
Written by Javier Montenegro.
Published November 2022.
Five of the Best Beaches in Cuba
Looking for a quick getaway or an island escape? We've rounded up a list of the best beaches for you to kick your feet up, relax, and enjoy the best Cuba's coasts have to offer!
Playa Ancón beach near Trinidad
Photo: Shutterstock
Explore Cuba's Beaches and Islands
Subscribe to our newsletter
Get more travel inspiration, tips and exclusive offers sent straight to your inbox